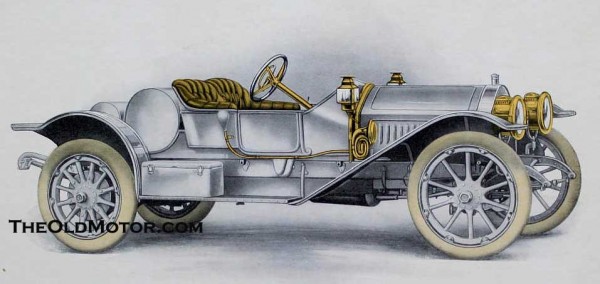 The American Simplex was built between 1906 and 1910 and initially was a 40 h.p. 2-cyl. for the first two years. It was soon replaced with a high quality four cylinder 30 – 50 horsepower, two – cycle four, in a 117″ w.b. chassis. The company was among the first American car makers to use a two – cycle engine at the time, which soon became popular because of of the ongoing need for valve and seat grinding in a four – cycle engine, due to the poor alloys of steel available here in the U.S., for valves at the time.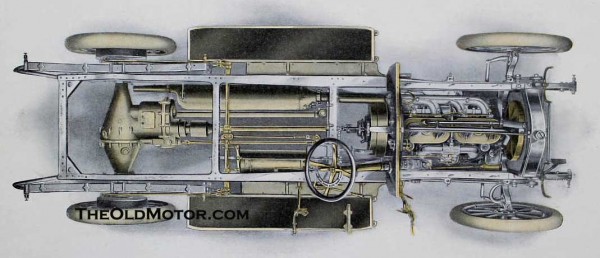 The chassis as you can see (above) was also built to high standards. The three speed transmission – differential design (below center), was quite similar to the unit Packard used at the time, but was beefier and featured longer sides and short axle tubes. This assembly was finished off with finned 2.5″ x 15″ foot brake drums that housed a separate 2.5″ x 10″ drum inside for the emergency brake.
The engine seen (above left & right) was a large and powerful  402 c.i., with a 5 1/16″ bore x  5″ stroke. While rated as a 30-50 h.p. it produced more than the advertised h.p. and did well in racing at the time. On June 12, 1910, an Amplex placed first, in the very competitive, $3001 – $4000 Class G Stock Class at the Shingle Hill Climb, in West Haven, CT.  In the 1910 Vanderbilt Cup race that fall, an Amplex was showing great speed, but was hampered by a gas tank problem for thirty minutes. In 1911 an Amplex finished eighth in the Indianapolis 500 race, against others with much bigger engines.
The Amplex was also an attractive looking car, with distinctive lines as seen at the (top), shown with a stylish roadster body. Left to right (below); we see a 5-passenger Toy Tonneau, a Limousine and a seven – passenger Touring Car.
In 1910 the name was shortened to Amplex to prevent the makers car from being confused with the N.Y.C. built Simplex.  The company did well, but with the high idling speed, noise and the smoke produced by the two – stroke engine, sales were hampered. In 1913 they offered a four – stroke six and also planned to build a sleeve valve engine, but it appears these efforts were a bit to late. The company stopped producing cars in 1913 and sold out to William Wrigley of the chewing gum fame, but he soon became disenchanted with building a car and that was the end of the Amplex.