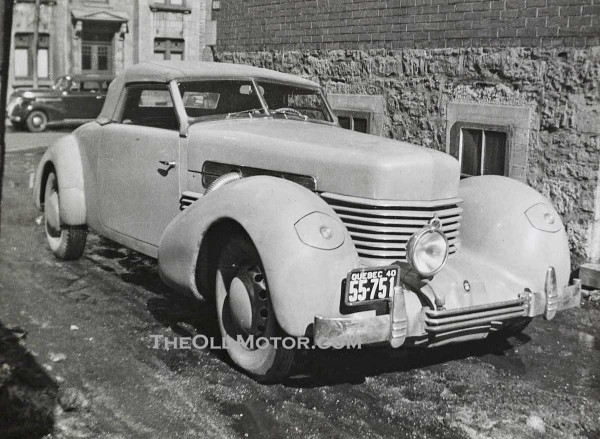 If you stop and think about it for a moment, a f.w.d. car like the Cord 810 or 812 was the perfect car for use up in Canada, were winters are quite long and snowy. The car pictured here, is an 812 Sportsman convertible shown posed on an icy driveway. Only three thousand Cords were produced in 1936 for the 810 model run, but many remained unsold and were re-numbered as the 812 model for 1937, the final year of  E. L. Cord's automotive empire.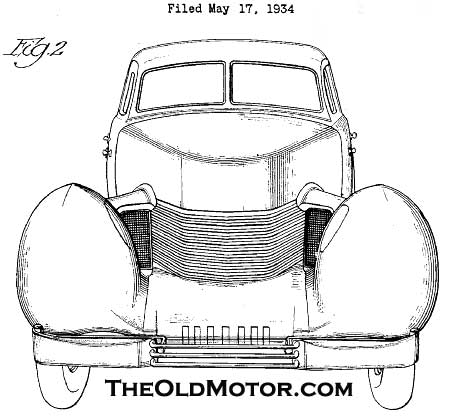 So much has been written in the press about this timeless beauty, that we thought we would take a different look at the car and focus on its styling. This Cord like so many other landmark designs, seems to have evolved over time. The first two patent drawings, dated May 17, 1934, by the very talented designer  Gordon M. Buehrig, (above and below left), show the basic design that was used in production with a few exceptions, the first is he had planned to add radiators below the wing-shaped panels between the hood and fenders. The headlights also were planed to open out of the sides of the fenders instead of the front and one other difference noted, is the center pillar between the doors has a tapered shape as seen on some earlier Buehrig designs.
The photos (right above and left below), dated Aug. 5, 1935, show a close to finished design, shown in plan and side-views, with the grille being extended all the way back to the cowl below the hood. The combined front end and rear end views, show a design quite close to what ended up in production. The last photo (below right), dated May 11, 1936, shows the final "coffin-nosed" hood design, with seven horizontal louvers used on the standard production models. The supercharged 812 models had the side-pipes as seen on the photo at the top.
You can also see a Hollywood Graham here on The Old Motor, which used the left over body dies from the Cord for its last model run in 1940. More information about the very interesting Cord, can be found at the Auburn-Cord-Duesenberg Club.