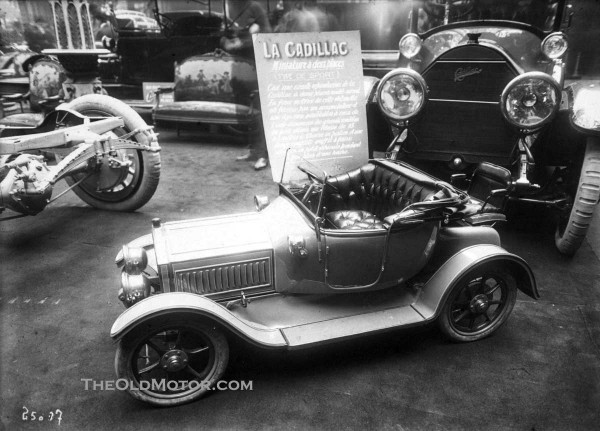 The Salon de l'auto held during 1912 in Paris, France, was one of the most important automobile shows of the time. While looking through images taken at the show, three interesting photos of American display chassis and the baby Cadillac (above) were found.
London Cadillac dealer Fred Bennett, commissioned the Baby Cadillac, a battery-powered, two-seater replica on a four-foot wheelbase, to promote the new Delco electric cranking device invented by "Boss" Kittering. The little car was built in 1912, by Lockwood & Company of Islington, North London, England. After finding the Cadillac photo at the Paris show, this film (below) we have posted here in the past, showing the little car running on the streets of London, is being re-shown here.
The film identifies it a having been built for Crown Prince Olaf of Norway, by Queen Alexandera, who was his grandmother and it has survived and is in Norway's National Arts Museum. Could more than one of these little gems have been made?
At the Cadillac display at the show, is shown (above left) a chassis with the famous Kettering designed starter and the copper water-jacketed engine. The (middle) photo is identified as an Overland chassis and the (right) photo shows a Buick display chassis. Photos courtesy of Bibliothèque nationale de France.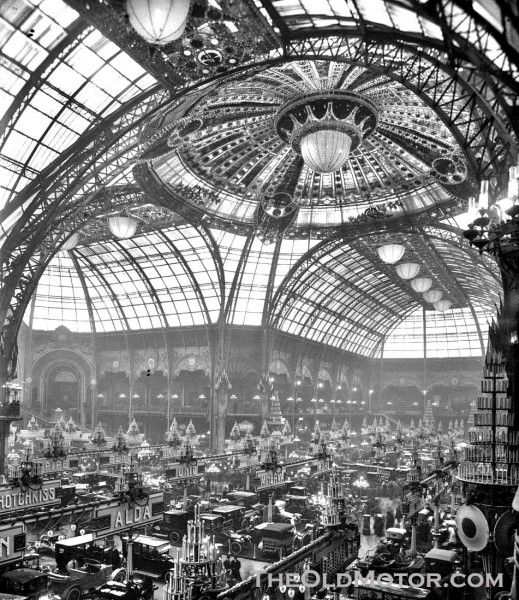 This is where the The Salon de l'auto was held, in the incredible Grand Palais shown (above) which was built in Paris, France, for the 1900 Worlds Fair. It still exists and has recently been restored. It was one of the type of buildings popular at the time, built in the style of the Crystal Palace, a cast-iron and plate-glass domed building, that was erected in Hyde Park, London, England for 1851 the Great Exhibition.