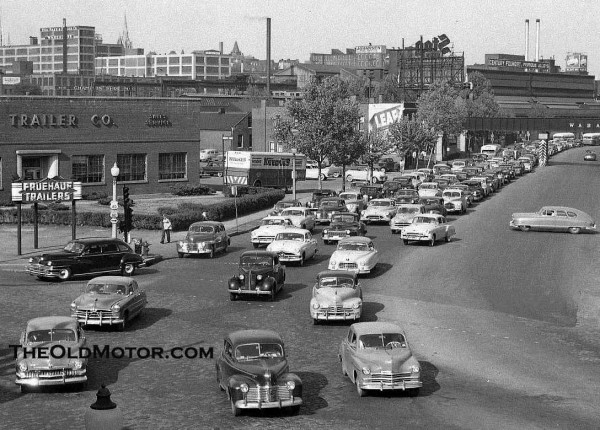 This street scene in St. Louis, Missouri, taken in the early 1950s, shows us the busy intersection of Vandeventer (US 50) and Market (US 40) looking northeast. The brick building on (left) hand side, is the Fruehauf Trailer Company factory branch. On the (right) hand side is a Mohawk Tire store. In the (middle) of the photo, past the Wabash Railroad bridge, can be seen the Century Foundry, where ferrous castings were poured.
We will let you readers tell us, what is the newest car to be seen here, so that we have a better idea of the date. You can see the complete photo below, divided in half.
The photo is courtesy of Joe Sonderman who has a  Route 66 photo  collection that we have been posting in a series. He has written a very interesting book called  Get Your Pics on Route 66.