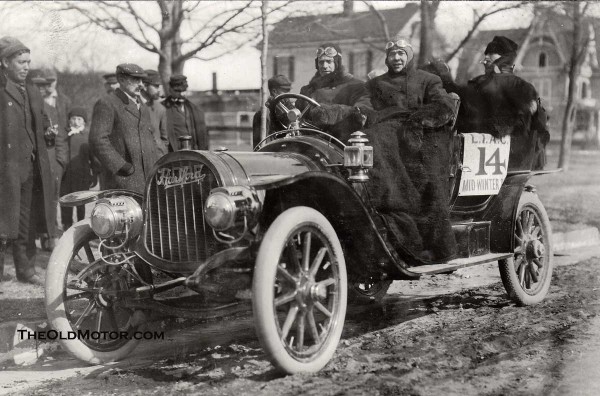 This circa 1908 Pope – Hartford touring car and its crew, are seen on a Long Island Auto Club, Mid Winter run. For quite a few years the club had regular endurance runs, scheduled during the different seasons of the year. Many of them left Brooklyn N.Y. and made the run to Riverhead, Lond Island, N.Y. After an overnight stay, they reversed direction and headed back to the city.
Check out the detail photos below of the Pope – Hartford and note the headlights turned around to protect the lenses from breakage and to keep the mud splatter off of them. The car is also equipped with a very nice combination clock and speedometer, that can be seen just in front of the steering wheel.
The photo is courtesy of the collection of Mark Johnson, of the Klingberg Family Center, which hosts the annual Klingberg Motorcar Festival as a benefit event on Fathers Day weekend. Please support them if at all possible and be sure to try to attend next year's show in New Britain, CT.