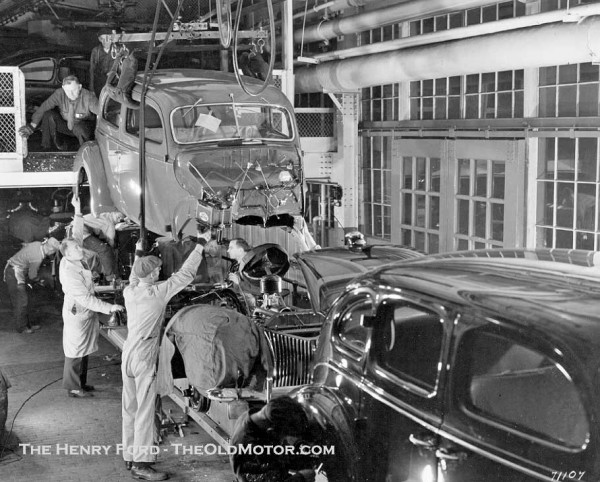 The photo above shows the body-drop station on the assembly line at the Ford Motor Company River Rouge Complex in 1939. This complex may have been the world's largest and most famous auto manufacturing and assembly plant in the world.
Henry Ford started out in 1915 by buying two-thousand acres along the Rouge River west of Detroit, intending to use the site only to make coke, smelt iron, and build tractors. His plans changed and by the late 1920s Ford had built the complex up to the point where it included virtually every element needed to produce a car; blast furnaces, an open hearth mill, a steel rolling mill, a glass plant, a huge power plant and an assembly line that was first used during 1927, the last year the Model T was produced.
Photos (above); Aerial views of the vast complex taken in 1931 and a photo of one of the office buildings in the late 1920s.
In the aerial views one can see the some ninety miles of railroad track, which was both outside and inside. What these tracks could not service was connected by some 120 miles of conveyer belts. The complex is still in use today after many changes, but some of the buildings still stand and continue to service the company.
More can be learned about the very interesting story of the plant in a three-part history of; as was being built, the first assembly line and the complex after Henry Ford and up to today at The Henry Ford.
Left to right (above); Looking down the long Model A assembly line. An aerial view taken in 1927 showing the 600 acre sight that is 1.5 miles wide by 1 mile long. The assembly line during 1935.
The photos above are courtesy of the Henry Ford, where you can to learn all about the Henry Ford Museum and the Dearborn Village. Many other photos from The Henry Ford, (scroll down) can also be seen here on The Old Motor.
The Harvest Of The Years film above, by the Ford Motor Company, was produced in 1939 and is "A Story Of The Triumph Of An Idea". The detailed film starts with a brief history of Henry Ford's first workshop and then shows and explains to the viewer the very interesting details of this amazing industrial complex.
We also have many more interesting photos of The River Rouge Complex that you can look back at here on The Old Motor.