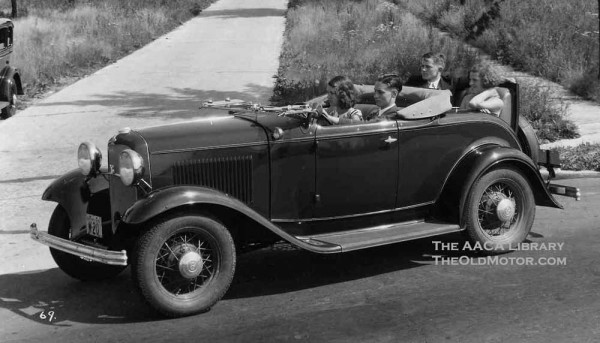 The very attractive and sporty new 1932 V-8 Roadster.
The 1932 Ford was the long anticipated replacement for the Model A Ford. With the help of Edsel Ford's keen eye for great automotive styling and the new V-8 engine, the 1932 Ford went on to become one of the most popular Ford models ever produced.
Illustrations from an original sales catalog showing the Phaeton and Three-Window Coupe.
The 1932 Ford automobile combined what basically was a larger and redesigned Model A with the world's first low-priced, cast-in-one-piece V-8 engine. When the V-8 first made its appearance in the 1932 Ford, it raised the standard for low cost production automobiles. Offered as an option to an improved 4-cylinder Model "B" engine, the 221 c.i. V-8 power plant, with its down draft carburetor gave 1932 the Ford impressive performance.
One again Henry Ford set out to do something that had never been done before in the U.S., which was to cast a V-8 engine block all in one piece. Developing the methods, patterns and tooling to make these castings turned out to be a very difficult job. To successfully accomplish this complex casting, foundry practices had to be refined to a much higher level of precision than what had worked in the past.
In a three page article found in the Automotive Industries, Nov. 5, 1932, issue (above), you can see and read all about how it was done. The difficulty was caused by it being an l-head or "Flathead" as it became to be known, with all of the exhaust ports running from near the center of the casting, out to its sides.
A quick study of the exhaust ports (center and ends) in the photo on the first page (above), will show you why these engines have a tendency to run warm under less than ideal conditions. The long exhaust ports transfer a consider-able amount of heat from the exhaust gases, into the water jackets on their path out through the block.
Photos left to right from an original Ford sales catalog; The new 65 h.p. V-8, an early version of the chassis the frame of which was later given x-member and the lower end and pistons and rods.
Photo at the (top) courtesy of the AACA Library, you can also learn more about the 1932 Ford and see many more photos at  Macs Motor City Garage.
Below you will find a very interesting film, from the Benson Ford Research Center showing Henry Ford's "Prosperity Drive" when the long anticipated new Ford was finally ready for the start of production. You will see the River Rouge Plant, new Fords being put to test, the assembly line and the full line-up of all the Fords offered in the landmark year of 1932.