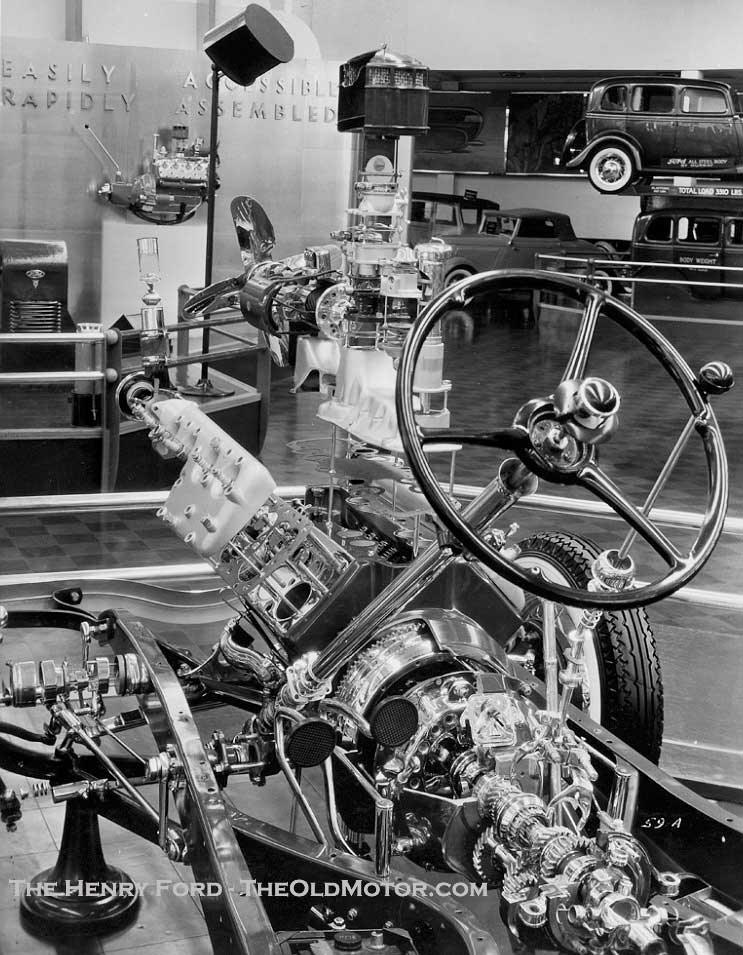 Chicago's 1933-34 Century of Progress Exposition used the theme of progress to encourage optimism during the depression. After the Ford Motor Company opened its massive exhibition building in 1934, fairgoers could peruse acres of industrial demonstrations and informative displays.
The photos seen here are of a 1933 or 1934 Ford display chassis set up to show the attendees how the Ford was constructed. The chrome plated and painted "exploded assembly" was built by master display makers and it is quite interesting to study all of the photos both above and below.
The left hand photo (above) shows that the front of the engine was sectioned to show off its internals. The center photo (above) shows a sectioned rear axle and torque tube, with beautifully chromed internals and a display mirror above it. The right hand photo (above) shows the other side of the partially sectioned engine and transmission assembly, from another display at the Expo.
The film (above) made at about the same time by the Ford Motor Co., comes from the Benson Ford Research Center and depicts the story of a Ford worker who goes home from work one car short of the production target and dreams that the outstanding one is built by a fairy. After the worker falls asleep the incredible animation that follows shows the factory production line, plus an exceptionally detailed, comprehensive look at the V8 construction in all its stages. It is well worth watching and a couple of preview scenes can be seen below.
Photos courtesy of the Henry Ford, where you can to learn all about the Henry Ford Museum and Dearborn Village. Many other photos from The Henry Ford, (scroll down) can be seen here on The Old Motor.