George "Joie" Chitwood started his career behind the wheel in the mid-thirties racing sprint cars in the midwest. The Driver won the AAA Sprint Car Championship in 1939 and '40 and the CRSA (Central State Racing Association based in Sacramento, CA) Championship in 1942. Chitwood also competed in the Indianapolis 500 seven times between 1940 to '50, finishing as high as fifth three times.
For a time he was a Hollywood stunt driver and appeared in a minor role in "To Please a Lady" starring Clark Gable and Barbara Stanwyck in the 1950 film about auto racing.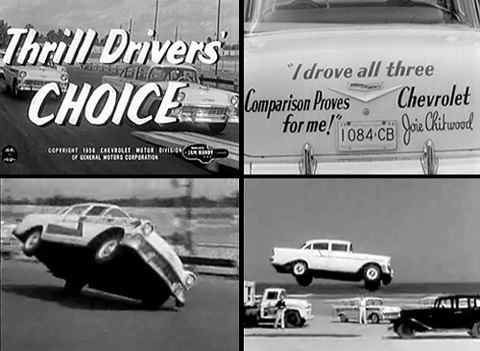 Chitwood then started a "Hell Drivers" thrill show, which he ran in a very professional manner and developed it into the very popular and successful "Joie" Chitwood Thrill Show (1945 to '98.) His act became so popular and polished that it led to the team being selected to perform on ABC "Wide World of Sports" in 1967.
This film "Thrill Drivers Choice" was a Chevrolet promotion, were Chitwood and the Thrill Drivers demonstrate the handling capabilities and durability of the 1956 Chevrolet. Take a few minutes to watch it, as is professionally done, quite interesting and entertaining.