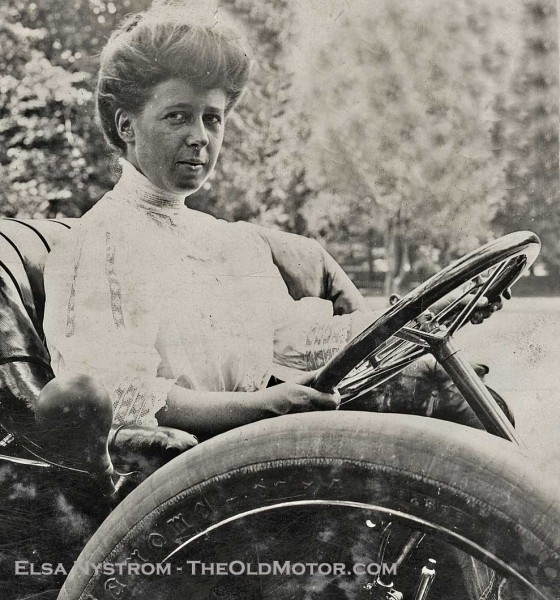 By Elsa A. Nystrom:
In 1914, Joan Newton Cuneo, the first female race car driver in the United  States told Country Life magazine, that she had already owned eighteen automobiles. For most people, in 1914, this was an incredible number.  After three years of searching, I have only been able to positively identify 12, along with two others for which I have a description but no name. Before her death in 1934, Mrs. Cuneo undoubtedly owned a few more.
In addition to the cars she owned, she also drove a handful of racing cars after women were banned from racing in 1909. She had many friends in the racing world who recognized  her love of fast driving, and often allowed her to try out the cars they owned or raced.  Joan was truly addicted to speed and not surprisingly, acquired numerous citations for speeding between 1905 and 1915.
Her first automobile was not a speed machine, it was a used 1902 Loco-mobile steam car, her husband bought her because he was afraid she couldn't handle a powerful car, as it probably only had a top speed of 30 mph downhill. She soon tired of eating the dust thrown up by the faster cars that passed her, and her husband obligingly bought her a new 1903 White Steam Tourer. Weeks before she entered the 1905 Glidden Tour, he replaced it with a faster 1905 White.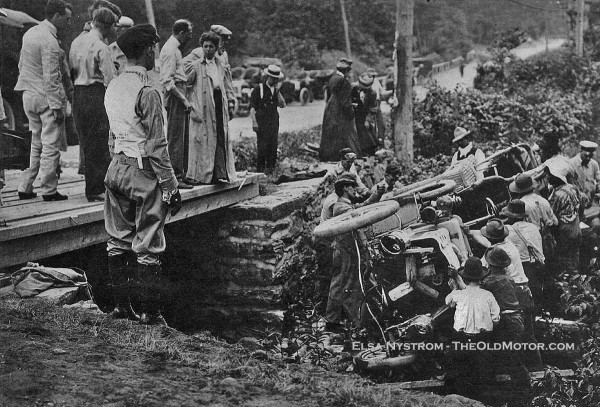 Joan, at the wheel of the 1905 White made the newspapers numerous times because she was the only woman who dared drive in the challenging event. However, despite her skill behind the wheel, Joan's unfortunate accident (above) on the second day of the Glidden made her an instant celebrity. The photo of the White on its side in a stream (Ed. note: it was repaired and she continued on) made headlines in many newspapers and served to jump-start her racing career. She raced both the 1905 and a 1906 White chassis which the Cuneos bought strictly for racing and successfully set a number of women's records. Many White Steam Cars can be seen here (scroll down).
Admiring the Maxwell Speedster's performance in the Glidden Tour, she also bought a 1906 model which she raced briefly under the sponsorship of the Maxwell Company.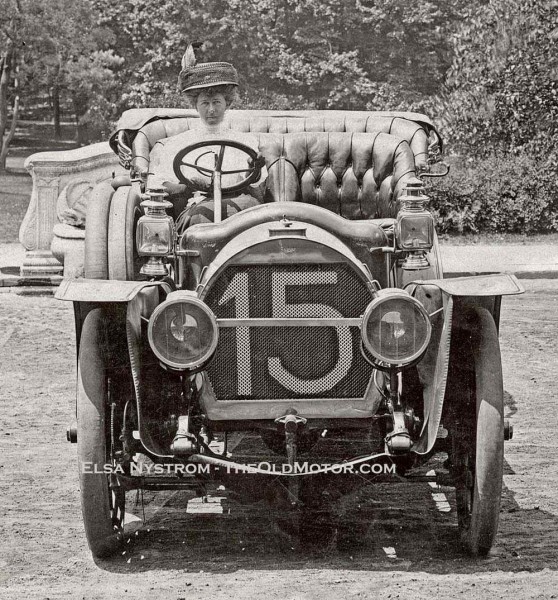 Upon her return from several months in Europe, Joan bought a 1907 Rainier Touring Car which she drove in the 1907 Glidden Tour. A year later, she bought yet another (1908) Rainier which she raced and drove in the 1908 Glidden, finally achieving a perfect score.
Her greatest success at the track was at the wheel of her next new car, a Knox Giant. In February of 1909, Joan defeated a number of top male racers, with the exception of Ralph De Palma at the New Orleans MardiGras meet.
However, although she would fight against the Contest Board's ruling, this would be her last opportunity to race in an AAA sanctioned event, as the organization banned women competitors in the following month.
Still determined to race, she had yet another Giantess (her male competitors feminized the name of the Knox because of her success) built to her specifications at the Knox factory, but she never got to race it officially. It was however, successfully raced for her by her longtime mechanic and friend, Lou Disbrow.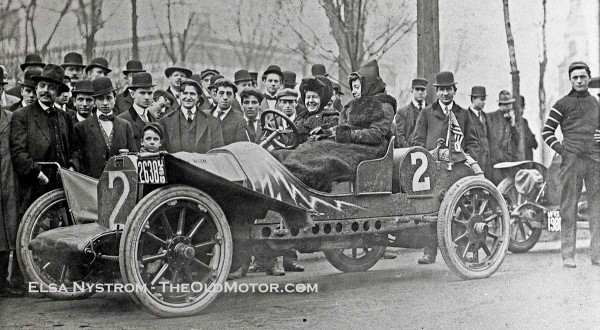 Between 1909 and 1912, she drove a series of racing cars that were owned by others, mainly in time trials. Some of the better known models were the Darracq Bluebird, the Lancia Lampo, the Case Jay-Eye-Cee racer campaigned by Lou Disbrow and his Pope – Hartford Hummer, in which she set a women's speed record of 112 mph on the Long Island Motor Parkway.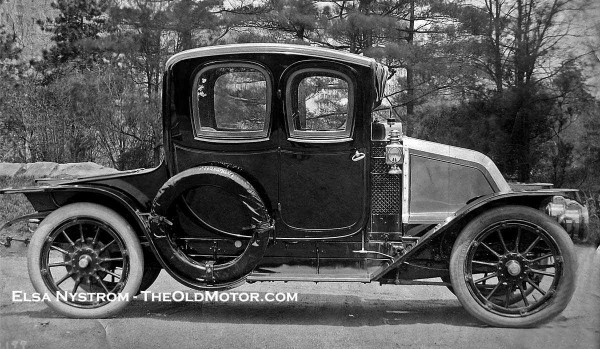 In 1910, she bought another a Renault American Standard Touring Car which she used for touring in upstate New York and Vermont. The Newton family retains a photo of yet another of Joan's cars, this circa 1910-1912 Renault (above). Ed note: (It appears to possibly be wearing custom French coach work).
Although still famous as "a driver of large racing cars," in 1914, she was nearing forty and her racing career was almost over.
To make matters worse, the following year, family troubles forced  Joan to leave New York. She moved to Vermont in 1918 and eventually to Ontonagon, Michigan where she died in relative obscurity in 1934. Today Joan Newton Cuneo is remembered mainly as the woman who got women banned from racing by competing against men.
Editors Note: The first of two interesting  articles (above) was found in the March 18, 1911, Automobile Topics, telling of Lou Disbrow's Pope-Hartford being christened by Cuneo. The second article dated August 15, 1915, in the Horseless Age, tells of her scheduled appearance at races in Hamlin, Minn., to give a ten-mile exhibition race against an "aeroplane".
Look for another post in the future on Cuneo, demonstrating her Knox racing car in Wilmington, Vermont, during 1910, were she spent time in the summers before 1918.
Special thanks to Elsa A. Nystrom for writing this article and sharing these photos which will be in her upcoming book, due out next year, which will review titled: Mad for Speed – The Racing Life of Joan Newton Cuneo.