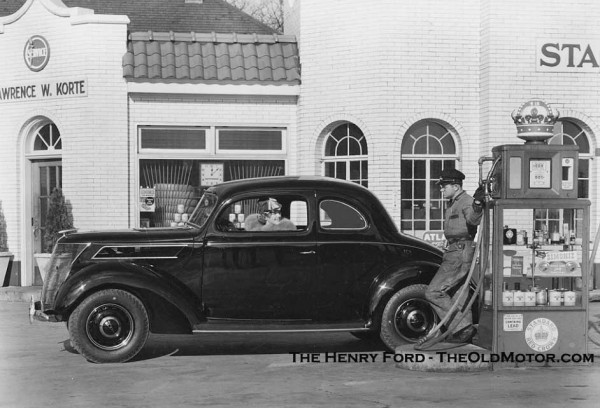 This photo shows a new body style that Ford introduced in 1937, which was called the Deluxe Club Coupe. This was one of some 17,000 that were made, featured a rear seat and was listed as a four – passenger. It sold for $720.
Ford also made a three – passenger Standard Coupe of which some 90,000 were produced and sold for $585. The three- passenger Deluxe Coupe sold for $660 and over 26,000 were manufactured.
Note the deluxe Red Crown gasoline pump with the glassed – in display case. The Ford promotional photo was taken at the Lawrence W. Korte filling station, possibly in the Detroit area. Can any of our readers tell us more about the gasoline pump?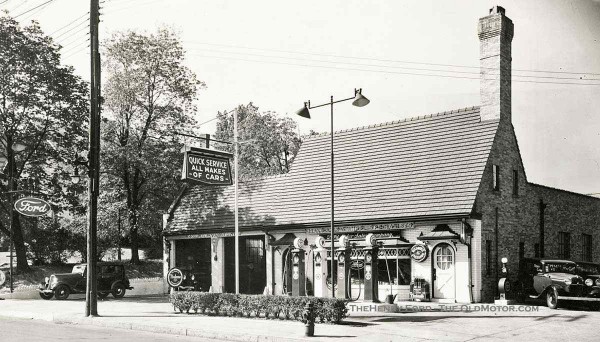 The Ford Pure Oil station (above) was an experiment by Ford to capture a larger part of the automobile business. Some stations sold new cars and other like this one also sold used cars. Note the 1932 Ford sedan on the right and a another car behind it for sale.
It was a short-lived experiment as Ford dealers and other garage owners were soon up in arms with Ford trying to grab their business.
Photos courtesy of the Henry Ford, where you can to learn all about the Henry Ford Museum and Dearborn Village. Many other photos from The Henry Ford, (scroll down) can be seen here on The Old Motor.