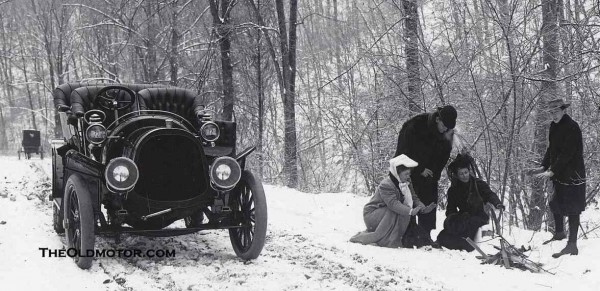 * Update * Tim Martin was able to find that the number 72 was registered to Edward H. Betts of Hartford, CT, during this time in the CT. state records. We believe that he may possibly have been connected with the Pope – Hartford company which was located in Hartford.
It appears that winter motoring was a bit more work than we are used to these days, but this may have been part of the normal routine and fun, when driving way back then on the way to Grandma's house. This circa 1907 – 1908 photo, shows a couple with a girl, a boy and a Pope – Hartford Touring Car stopped in the road, while they are getting warmed up by a fire off to the side. In the distance behind them can be seen a horse and buggy.
We believe that both photos shown here may have been promotional or photos for someone who was somehow involved with the Pope – Hartford company. The photos are part of a batch that appear to have come from someone connected with the firm.
The location is unknown but perhaps a reader will be able to identify what state the car was from, by the number 72 pasted inside of each side lamp. In many states early on, the registration letters and numbers were also painted on the side lamp lenses in addition to the license plates.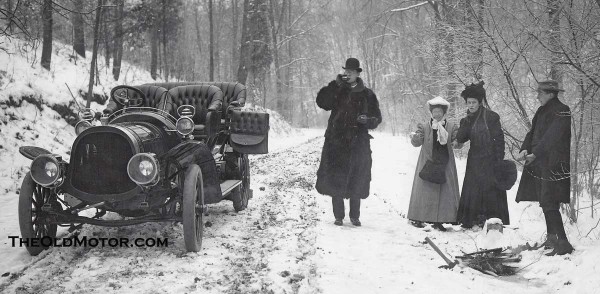 A little bit later on we see the party is all warmed up and Mr. Fur Coat is having a nip from his flask and another cigarette, before heading on down the road. Note the hatchet by the fire and the usual tire chains on the rear wheels.
The photos are courtesy of the collection of Mark Johnson, of the Klingberg Family Center, which hosts the annual Klingberg Motorcar Festival as a benefit event on Fathers Day weekend. Please support them if at all possible and be sure to try to attend next year's show in New Britain, CT.