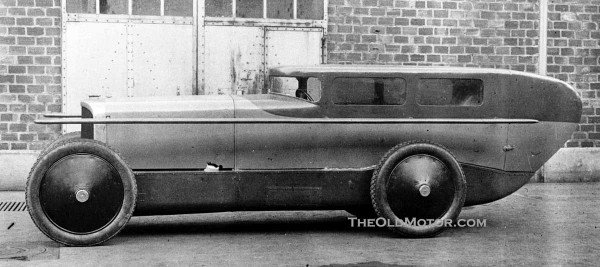 This interesting streamlined design was built by the Farman company of France, which was run by three brothers, Richard, Henri and Maurice. They were forward thinking and  important pioneer developers of the airplane and its flight in Europe. Henri and Maurice funded their aircraft pursuits by operating a successful car dealership in Paris and Richard also ran a sales outlet in the brothers native land of England.
After WWI the first Farman car was introduced in 1919 at the Paris Salon. That car, the model A6, carried with a 6.6 liter six – cylinder engine, with an ohc cylinder head driven by a vertical shaft and bevel gears and a stated 200 b.h.p. The fan was also driven off of the front of this arrangement. It was a successful high priced car built to compete with the luxury car makers from both England and Europe.
At some point in late 1922 0r early 1923 two racing cars were built by the company for speed, hill climbs and other contests. The car shown here was a four seat aerodynamic enclosed sedan, while the other was an open two – seater. An article found in the March 22, 1923, issue of Automotive Industries (above), gives many details.
The two spare tires carried were enclosed in the trunk of the streamlined body (above left). The intake side of the the ohc – six (above center). A section of the right hand horizontal fender (above right), folded forward and allowed access to the one lift up and folding door. The text above mentions the the cabin is "practically identical with that of Farman passenger carrying airplanes"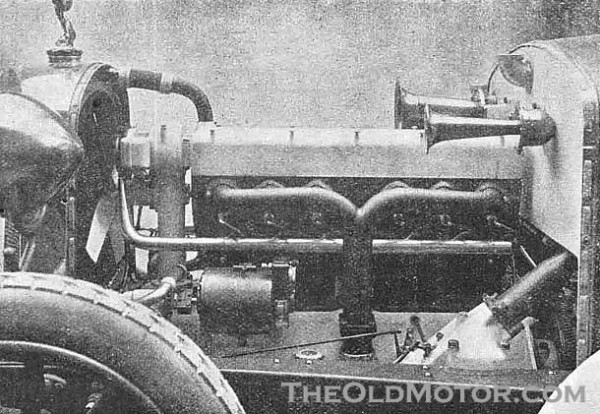 The two engine photos shown here are from an Oct. 30, 1919, Automotive Industries article describing the A6 power plant and the new car. The 394 c.i. engine shown (above) carried a 3.9″ x 5.5″ bore and stroke. The first engines are reported to have used a welded steel block following aircraft practice, but were later versions as in this car featured an aluminum alloy head and block atop of the alloy crankcase.
Many other interesting French coach built designs can be seen here on The Old Motor.