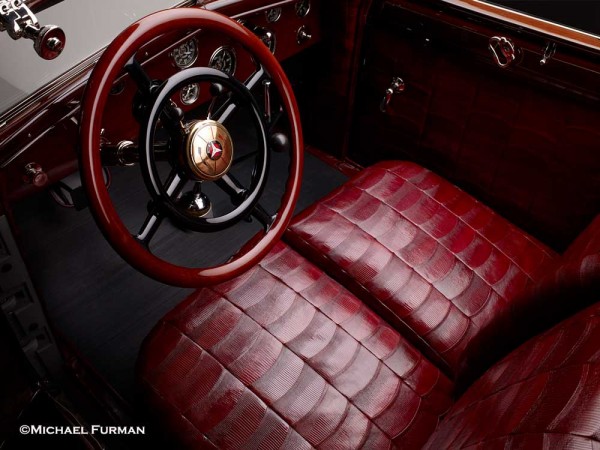 Editors note: We are proud of Paul Russell and Company from many reasons, including the firms restoration the 2012 Pebble Beach Concours d'Elegance Best of Show Winner this year for Paul and Judy Andrews. The other reasons are as follows; because they also employ McPherson College graduates who helped with the project, a bit later on they used the car in a very successful fundraiser for student apprenticeship travel and accommodations and finally, they also won the prestigious International Historic Motoring Awards 2012 Restoration of the Year with the car. Take a few to minutes learn much more about the Fundraiser and the car below.
By Maria Writesel:
Paul Russell and Company, the automotive restoration and preservation specialists of this year's Pebble Beach Concours d'Elegance Best of Show Winner, the 1928 Mercedes-Benz 680S Saoutchik Torpedo Roadster, brought the Mercedes star back east November 3rd to an eager crowd of enthusiasts, raising funds for McPherson College's Automotive Restoration Program, the country's only four-year Bachelor of Arts program devoted to the craft.   The event raised nearly $60,000, from over 200 avid auto enthusiasts, sponsors, and supporters who were treated to a first-hand explanation of the custom coach builder's art from the restoration team, several of whom are McPherson College Graduates.

"We are thrilled to champion the Automotive Restoration Program at McPherson College, and to have Program graduates involved in a restoration project of this magnitude – an exquisite example of the "coach built era" motorcar," Paul Russell, a long-time Educational Advisory Board Member of the school, and event host said.
Partner sponsor Mercedes-Benz USA was on hand with a new LeMans Red SLS coupe looking every bit as classy as its 85-year old predecessor, showing the marque truly does withstand the test of time! They joined nearly a dozen other sponsors of the event from the historic, collector and vintage automotive industries, many of whom share a long-time interest and involvement with the McPherson College Automotive Restoration Program.
"We're proud to provide scholarship opportunities, to join in these fund raisers, and promote the McPherson College Automotive Restoration Program," Mike Kunz, of Mercedes-Benz Classic Center in Irvine, California and fellow Educational Advisory Board Member at McPherson College said.  "We also enjoy the first-hand benefit of employing the graduates of the Program, with one of our youngest employees becoming a specialist on our oldest model – the very car that launched the automotive age – the 1886 Benz Patent Motorwagen!"
Hagerty Insurance, specialty auto insurers were on-board and on-hand to enjoy the presentation and shop tour.  "It is important for all of us to support institutions like McPherson College so future generations learn how to properly restore classic cars.  McPherson sets the standard and their graduates can be found at some of the world's leading restoration shops and winning prestigious awards at events around the country."  McKeel Hagerty, President and CEO said.
McPherson College Restoration Program alumni (left and right) at Pebble Beach with the car. Stacey Puckett, Paul Russell, Joe McCollough, Garison Green, Chris Hammond, Bill Kleines and Amanda Gutierrez (left to right center above), with the car at the Fundraiser.
The restoration team took attendees through the meticulous processes they used to bring the 1928 Mercedes-Benz up to the exacting Pebble Beach standards.  Processes, such as researching and recreating the lizard skin upholstery were accomplished with utmost deliberative care, and over 1500 hours were spent on this endeavor alone!  Chris Andrews, son of the vehicle's owners Paul and Judy Andrews of Fort Worth, TX, was closely involved in monitoring the progress through the nearly two-year long project and emphasized the roadworthiness of the finished product, in addition to its Pebble Beach Concours preparation. Their Panther City Classic Autos are also among the event supporters.
"I'm proud to be part of this team," McPherson Graduate, Stacy Puckett, the Resource Manager at Paul Russell and Company said.  "Preserving the history of these important early motorcars so future generations can enjoy and learn from them is a pretty awesome job."
Amanda Gutierrez, McPherson College vice president for automotive restoration, said they were pleased to have so many restoration alumni involved with the Best of Show winner and appreciate all the efforts of Paul Russell and Company to organize this benefit.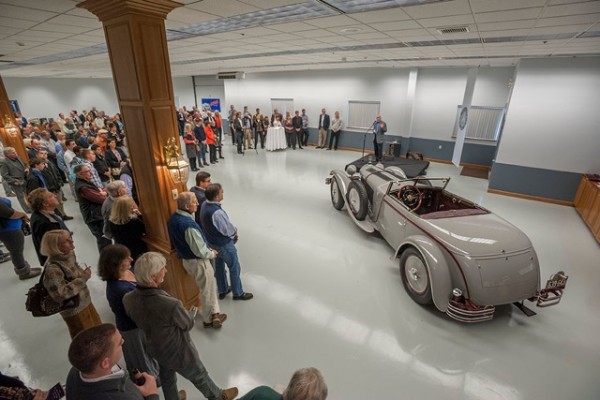 "At McPherson College, we teach students the skills, historical background and global perspective they need to develop into world-class restorers – like those at Paul Russell and Company," she said. "We are so proud of our alumni success and their passion and professionalism. Our thanks go to Paul Russell for seeing the value of McPherson College."
Panther City Classic Autos, Jay Leno, BASF Glasurit, Gooding & Company, Premier Financial Services, Intercity Lines, Griot's Garage, Michael Furman Automotive Photographer, and Motorsport Marketing Resources were all key sponsors, helping with everything from donations to in-kind assistance to make the event a success.
Take a moment to visit the Paul Russell and Company site where you can learn all about the interesting 1928 Mercedes-Benz 680S , its history and its restoration. Photos (car) courtesy of Michael Furman and the fundraiser, Maria Writesel.
Please also take a moment to learn about our upcoming fundraiser for the McPherson College Equipment and Tools Fundraiser, next month (access @ the top of our page). In the meantime if you can, please  try to put a bit aside to help the school when we are ready. We are also looking for any sponsors that can help donate towards the fundraiser and participate.