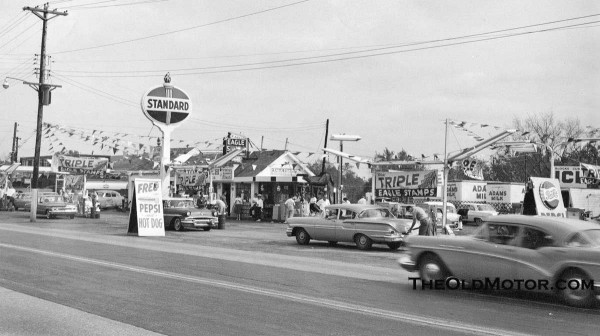 The circa 1962 photo was taken on the original Route 66 in Rock Hill, a suburb of St. Louis. This Standard Station and what appears to be an Eagle Stamp store was on Manchester Road and today it is a BP station. Taking the whole photo in (above) we can see five pump islands and a free Pepsi and hot dog sign for what may have been the opening.
The the half enlargements (above) give you very good detail, on the (left) the newest car to be seen appears to be a Comet at the far pump. In the (right) photo in the back, up against the fence is a 1962 Chevrolet two-door hardtop. Tell us what else you can see and date in all the photos.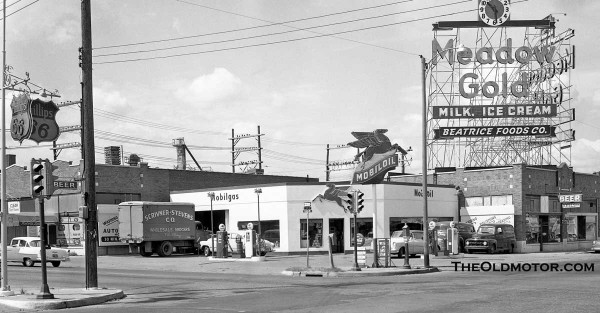 At 11th and Lewis in Tulsa, OK, we have a much quieter scene around a Mobiloil Station but plenty of liquids. On either side of the station can be seen two stores selling beer. And  high above the everything towers a Beatrice Foods Co., Meadow Gold milk and ice cream sign.
In the enlargement on the (left hand) appears to be the Melody Lounge, with signs for Country Club in the window. Above the trafic signal can be seen a Phillips 66 sign of yet another station. The sign just under the beer sign in the (right hand) enlargement is for Keels Beer. Beatrice Foods Company was a major American food processing company whose assets were sold off in the late 1980s.
The photos are courtesy of Joe Sonderman who has a  Route 66 photo  collection that we have been posting in a series. He has written a very interesting book called  Get Your Pics on Route 66.