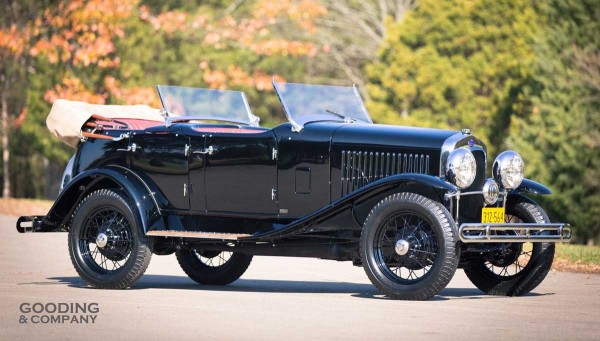 This very interesting one-off Model A Ford Phaeton is being offered by Gooding & Company at its Scottsdale, Arizona, Auction held on January 18-19, 2013. It was one of the Ford Motor Company cars that Edsel Ford chose to have fitted with custom coach work.
A true connoisseur, Edsel Ford may be best remembered for his influential vision of bringing continental art and design to American automotive manufacturing. In 1929, as President of Ford Motor Company, he commissioned LeBaron to design a one-of-a-kind body for the new Model A chassis, an experimental project that married the mass-produced Ford car to bespoke style and luxury. This resulted in one of the most attractive, pre-war Fords ever made: a one-off luxurious custom and elegantly-sculptured dual-cowl sport phaeton for Edsel's personal use and taste. The car's extraordinary specifications include exclusive, Stephen Grebel headlamps, a center-mounted Klaxon horn, exposed chrome detailing, and patent leather splash aprons.
In the 1950s, this car was sold to the well-known antique car collector Vernon Jarvis, who stored it in an Illinois dairy barn where it remained for more than 50 years. The car was discovered surprisingly in the dilapidated barn in 2007 and has since been restored to the highest concours standards. Edsel Ford's spectacular, LeBaron-bodied, built to order Model A will make its first public appearance since restoration at the Scottsdale Auctions in January and will be offered with an extensive file of original documentation, photography, period magazine articles and Edsel's Michigan registration. Photos by Mike Maez. For more information view the Gooding & Company preview.