The 1957 film The Sand Barrier, is an interesting and professionally done film for the Pontiac Motor Division of General Motors, that is well worth watching even if you are not going to view this weekends Daytona 500 race. The 26 minute-long film documents all of the action back in time when it was a two-week speed fest.
Featured in the film in addition to the main event are; speed contests on the measured "flying" mile, where John Zink sets an unofficial top speed of 141.2 mph in one of his 1957 Pontiac race cars. In the acceleration tests from a standing start on the one-mile course, Brewster Shaw sets a top speed of 86.8 m.p.h. in his 1957 Chrysler 330C.
Next up is the NASCAR Inspection Station were all of the cars in the main beach and road race are inspected before qualifying is held. The top speed set in that event is a run of 134.3 m.p.h. by Banjo Mathews in his Pontiac, which gives him the pole position at the start of the race.
        Scenes some of the events featured in The Sand Barrier.
In the 160 mile "Grand National Beach and Road Race" Cotton Owens in his Ray Nichols prepared Pontiac, early on sets the pace and is later challenged by Paul Goldsmith in his Smokey Yunick prepared Chevrolet. The hard fought race continues on until Goldsmith burns a piston late in the race and Owen's goes on the win at a 101.6 mph average speed and sets a new race speed record in the process.
After the finish of the race you can watch as Cotton Owen is congratulated by NASCAR Commissioner Cannon Ball Baker and is presented the Harley Earl Trophy for winning the race by Earl himself.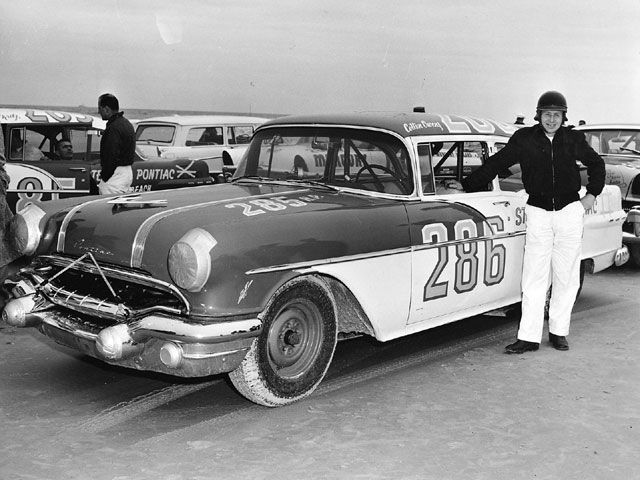 Cotton Owens is seen (above) at an earlier race on Daytona Beach with a Pontiac, in this photo courtesy of www.legendsofnascar.com
You can also look back here on The Old Motor to see many other early racing cars and other events, first when the speed events were held at neighbor-ing Ormond Beach and later on at Daytona Beach (scroll down).