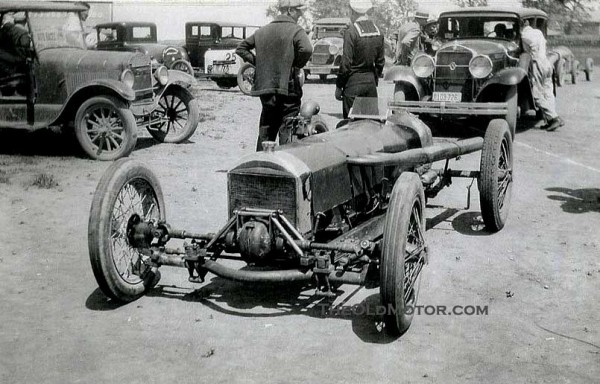 We have always wondered about this car, who built, who owned it, where was it raced? The photo has enough clues so that maybe the location can possibly be pieced together or hopefully one of our readers may know more about this "Ingenuity Special".
It is modeled on a front-drive Miller and is based on Model T components. It features a Model T engine and transmission turned around and hooked up to the center section of a T differential. Like the Miller, it is equipped with a tubular front axle possibly from an early car set on its side. Two types of U-joints are used for the half-shafts and the hubs and spindles are unknown components.
It appears to be equipped with an OHV racing head and based on the locations of the header and the down-draft Winfield carburetor, it may have been a Frontnac rocker-arm unit. It is also on a set of professional grade racing wire wheels and has rear wheel brakes on a simple tube axle. Both ends of the car are sprung on quarter-elliptic springs.
The Studebaker just behind it is about a 1930 model, which dates the photo to at least that late. Note the Model T to the left with the "Auto Races" sign on the windshield along with what appear to be a several Model T based racers in the background. Let us know what you may know.
If you enjoy Model T Ford racing cars be sure to see a 1929 Fronty Ford catalog (scroll down) we have posted here. And you can also see a few Model T Ford speedsters here.