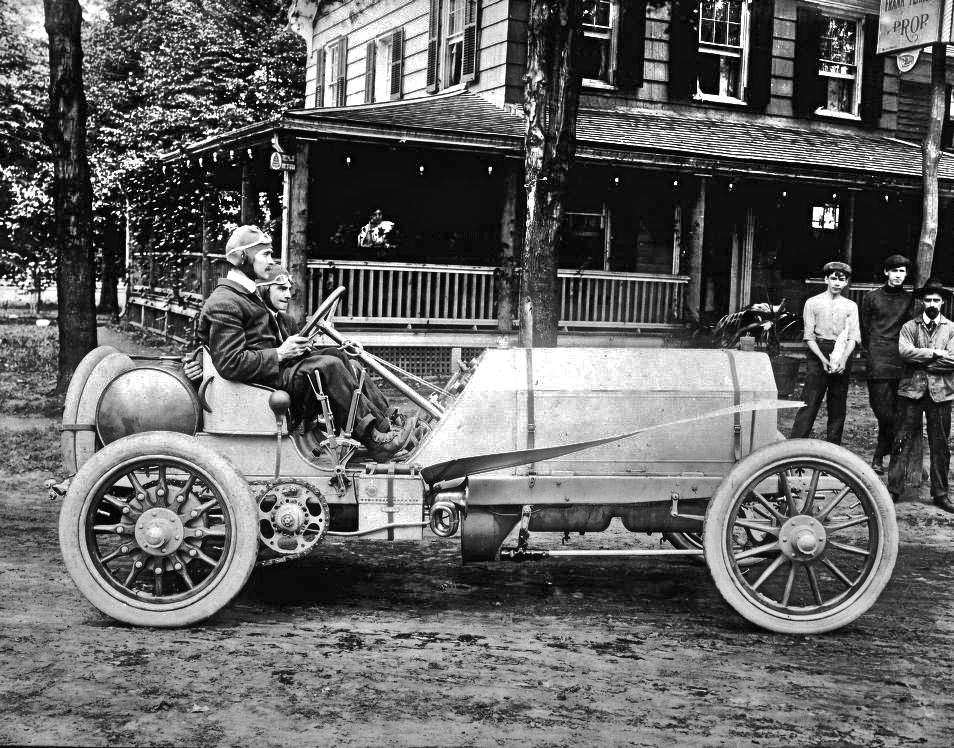 Old 16, as she is known, is a 1906 Locomobile and is without a doubt the most famous American racing car ever. It was one of a pair of racers Locomobile built that year and is shown above with Joe Tracy who drove it in the 1906 Vanderbilt Cup race. One of the two cars set the fastest lap time in that race but they were hampered by their old fashioned non demountable tires in comparison to the foreign cars who used demountable rims.
The car was two years old when it was prepared for driver George Robertson who drove it and won the 1908 Vanderbilt Cup Race. It was the first American car to win a major race like this and it became instant legend. It is a fairly conventional car for the time with four cylinder engine with a bore of 7.25 and stroke of  6.oo" and a displacement of 990 c.i. It developed 120 hp that was delivered thru double chain drive. The 2,200 pound car had a wheel base of only 110″ and in person is much smaller than you would imagine.
The car was owned by famous illustrator and painter Peter Helck for close to fifty years and is now in the Henry Ford Museum in Dearborn, MI. I was fortunate enough to be given a ride in the car when I was five years old when Helck had it on a VMCCA tour. The car was driven by Joe Tracy who drove it quite often for Helck. It was a life changing experience that lead me down the path to a career in early automobiles.
Enjoy this short film by Oscar Award winner Sue Marx which is Narrated by Paul Newman. It tells more of the story along with some great footage and you can see the car on one of its last journeys before being preserved for future generations.