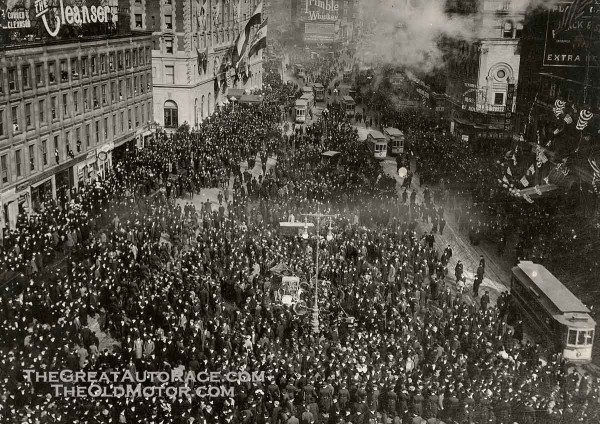 Times Square Start: With a crowd of 250,000 the New York to Paris Racers line up in Times Square for the start of this epic event
By Jeff Mahl:
At a time when the automobile was considered "after a woman, the most fragile and capricious thing on earth"*, the thought of racing these new fangled horseless carriages around the world was quite simply… ABSURD!
In spite of seemingly insurmountable obstacles and much skepticism, four International Teams lined up in Times Square the morning of February 12, 1908 at 11:15 AM with a crowd of 250,000 spectators for what was to become the Great Auto Race of 1908. Next stop Paris, even though there were no roads, no gas stations, no repair shops, and many times no sleep or food!
The competitors represented the world superpowers of the day; Germany, Italy, France and the United States. There was much at stake, and the eyes of the world would focus on the Racers daily with front page news in the New York Times and Le Matin (a Paris newspaper), co-sponsors of the historic event. The Race would become an epic test of machines as well as human endurance and ingenuity in a world that for most had never seen an automobile, much less an American.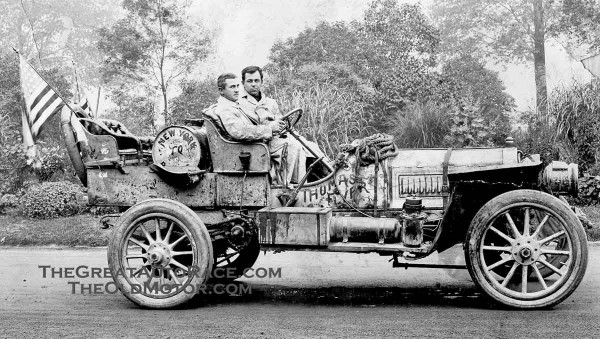 Thomas After the Win: Back in the US where the victorious Flyer was built, George Schuster is at the wheel.  Also shown is George Miller who served as mechanic after joining the Race in Buffalo.
Click on the thumbnails (above) to see the Thomas in detail after the race.
However, to truly understand the "Great Race" as many still call it to this very day, we have to go back to what travel was all about at the turn of the last century.  If you wanted to go any distance from point A to point B, there were only two reliable means.  The horse which had dominated transportation for centuries or the still developing steam powered railroads.  What we think of as snowplows today were yet to be invented, leaving automobiles as the expensive toys for the wealthy to be used only in the summer months.
In the coming months we will take a journey with this series. We will ultimately travel around the world, to see how this turning point in 1908 forever impacted automotive history.  The novelty of the horseless carriage would be transformed into what is now an indispensible part of our everyday lives.
To Be Continued…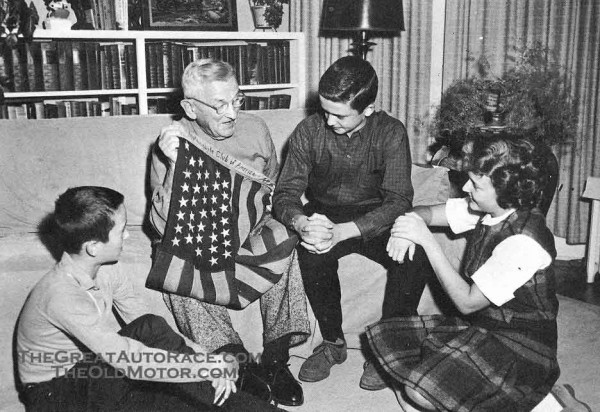 * About the author: Jeff Mahl is seated to the right of George N. Schuster, driver of the American built Thomas Flyer and winner of the 1908 New York to Paris Race.  "Great Gramp" is holding the 45 star US flag which flew from the Flyer, with his brother Matt and sister Jenny.
Ed. Note: We are pleased to have Jeff Mahl, George N. Schuster's Great Grand Son on board to tell the story of one of the most incredible races to ever be held, the 22,000 mile New York to Paris Great Race. For additional information visit: TheGreatAutoRace.com
Copyright 2012 Jeff Mahl TheGreatAutoRace.com – All rights reserved