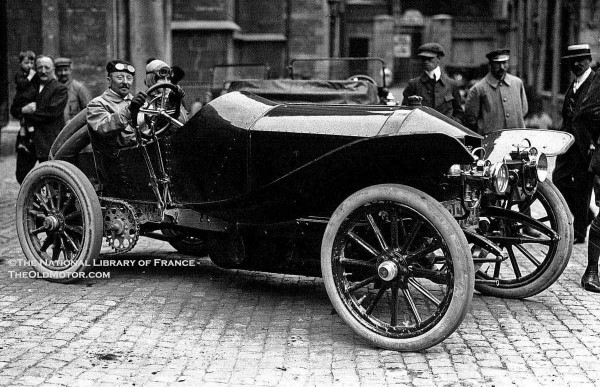 * Update * Thanks to Mercedes historian Robert Dick we know know the details of the car and the location and date of this photograph: " The Jenatzy photo is dated 18 July 1912. It was taken at Dinant/Anseremme, a few days before the Grand Prix du RACB. Jenatzy was on a visit at Anseremme. He did not start in the Grand Prix du RACB (Royal Automobile Club de Belgique).
The Mercedes is a sprint/record racer, 17,3 litre, 175 x 180 mm. In 1910, at Ostende, Jenatzy achieved 212 km/h in such a car."
This is the best photo we have ever seen of Camille Jenatzy, better know as the Red Devil and named that after his daring driving style, determination and red hair. He was forever famous as being the winner of the early 1903 Gordon Bennett Cup race driving a Mercedes.
This photo from The National Library of France, is captioned as showing him at the French Grand Prix. The date that this photo was taken is not known to us, but we would estimate that it is may have been at the 1907 event, were he retired after seven of ten laps. In 1908 Jenatzy drove a Mors, a French car in the event.
The reason for the self-generating headlamps and the license plate along with the lack of any numbering seen in the photo is, at the time most racing cars were driven to an event from quite some distance and this photo may have been taken after his arrival. If you can tell us more about this photo please send us a comment.  The photo is courtesy of the Bibliothèque nationale de France.