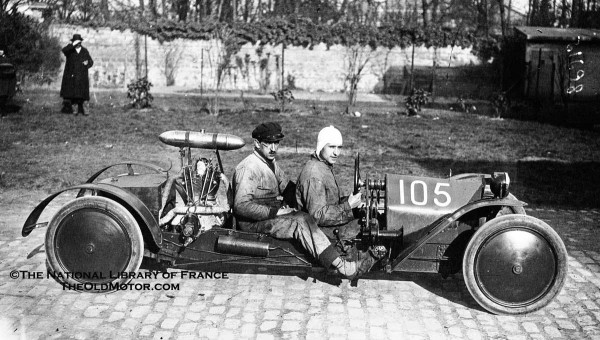 The French have always been know for their fine cooking and imaginative cars, motorcycles, cycle cars and coach building, some of which we have covered here already.  Cycle cars were very popular in France just as they were here in this country and others and there were many competition events for them in the early teens.
Most of them were two-man as this creation is with belt or chain-drive and most used motorcycle type engines. This car here like some others of the type, has cable operated steering. It is powered by an ohv vee-twin engine with quite a narrow angle and may have been chain drive. Note the cigar-shaped tank precariously close to the to the mechanics head, which is not clear if it is for gasoline or oil.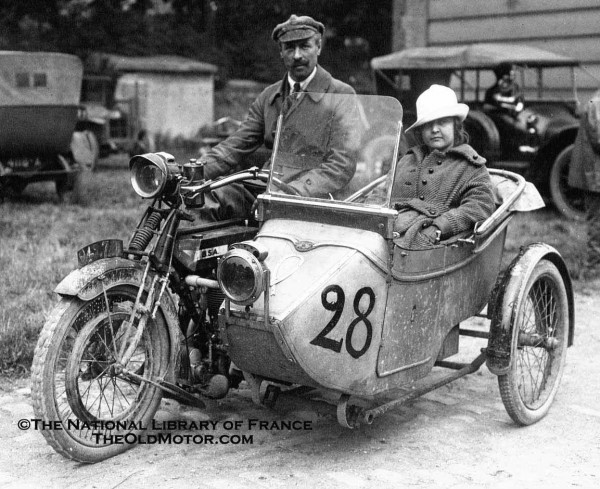 This rig (above) is a combination of an English BSA motorcycle and a ornately decorated sidecar that may very well be French. The date of the photo was 1913 and both the cycle and the sidecar have gas headlamps. Note the bicycle style front brake which rubs on its own rim. This is the Part I of a series we will be doing on  interesting motorcycles and cycle cars photos from the Bibliothèque nationale de France. You can see many more French creations (scroll down) we have already covered here and cycle cars (scroll down).