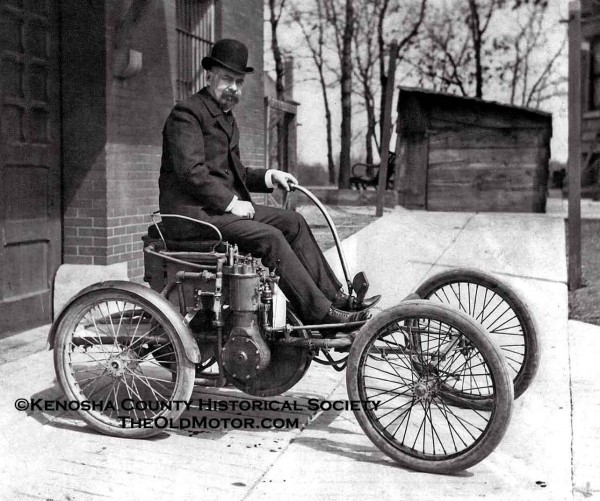 Thomas B. Jeffery as did many early auto manufacturers, first got his start in the bicycle business with R. Phillip Gormully, producing the Rambler and the pair also ran the early and well known G & J Tire Company. Jeffery supposedly at the urging of his son Charles T. Jeffery, investigated and then entered into experimentation with the automobile at some point around 1895 or slightly later.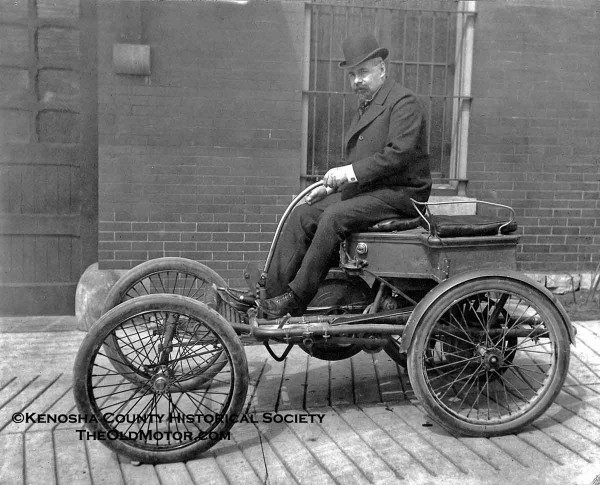 The machine that we see Thomas B. Jeffery posing with in the two photos (above) is believed to be the first Rambler built and has been recognized by many, as being built during 1897 in Chicago, the home of the Rambler bicycle factory.
It was a simple but well built machine with a tubular frame, a type of construction that Jeffery used no doubt, because of the firms experience with bicycle frame construction. It was equipped with a simple single-cylinder water-cooled engine and the drive appears to have been by chain or belt. The small but interesting runabout, had two seats with the passenger seat being rear facing and the steering was by a tiller.
Jeffery team of father and son then continued on with further development with their car. The next model was first shown in September of 1900, at The Inter-Ocean Tournament, one of the first exhibits and demonstrations of the commercially available machines at the time, held in Chicago, Illinois. In the September 26, 1900, Horseless Age Magazine (above), is a photo of a Rambler Stanhope and in the article are details of its construction as shown at the event. The car was also exhibited at the New York show two months later and Motor Age Magazine commented that it had "Many points in its favor ".
Jeffery seeing the early excitement in the automobile, next sold his interests in the machine and the bicycle factory to Colonel Pope following the sudden death of his partner Gormully. He then headed off to concentrate exclusively on developing his next car.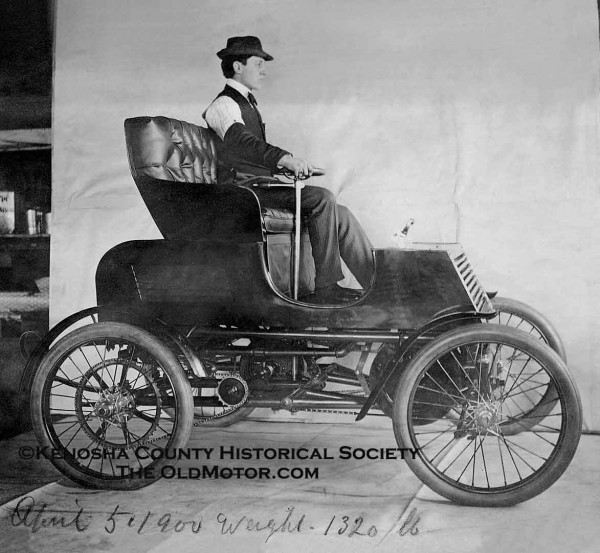 Jeffery and his son retained the right to the Rambler name and bought a huge factory building in Kenosha, Wisconsin and continued on there to build and experiment with the automobile. The photo above, dated April 5, 1900, appears to be one of the cars that they retained and took there for further development. It was a l.h.d. which was unique at the time and was steered by a column and wheel mounted in the center, which Jeffery's son Charles reportedly installed on the car.
The father and son then continued to work on yet another new design, which later went into production in 1902. We will show you that car in the next installment on the Rambler. You can also see Part-II here. Photos courtesy of the Kenosha County Historical Society and the University of Wisconsin Library.