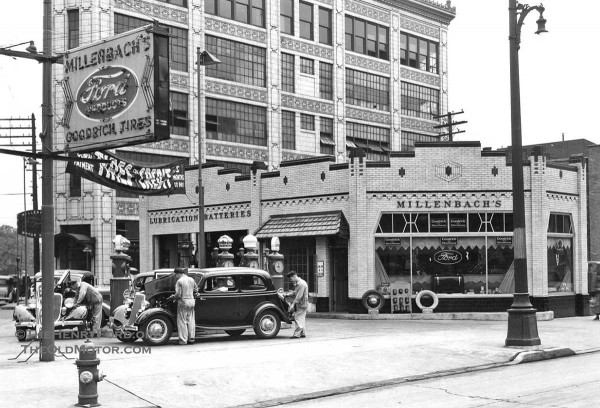 Here are three more interesting photos courtesy of The Henry Ford Museum. The photo (above) shows Millenbach's Ford Service Station at the corner of Russell and Gratiot in Detroit, Michigan. The photo is dated August 13, 1934 and shows another of the service stations we have shown here, that were part of a three year Ford program between 1934-1936.
The Ford Motor Company tried the experiment to get a larger part of the service, parts, gas and tire market and also sold new and used cars at some of the stations. It was very unpopular with Ford dealers already in business and also the garage and service trade and was dropped after the three years.
Check out the details in the enlargements above and note what appears to be an accessory Potter trunk in the front window.
* Update * Mr Pushbutton reports: That corner is vacant today. Its a shame, as the building just past it was beautiful, as was much of Detroit then. "the Paris of the midwest".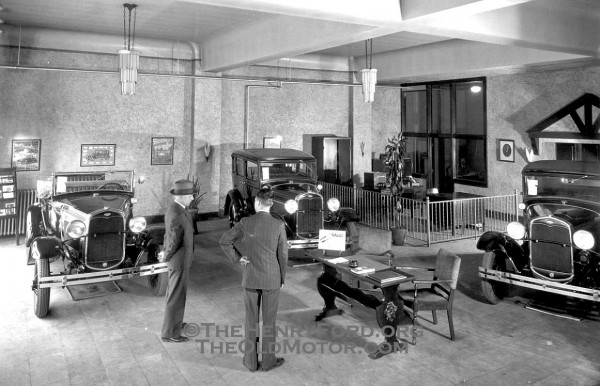 The modern Model Model A Ford showroom is seen in this photo (above) taken in 1931. Left to right is a Roadster a Fordor Sedan as Ford referred to it and a Coupe. Note the lighting and decorating, along with the open concept office.
Ford posters can be seen on the walls and it is interesting to note the the cars all have drip pans under them. It was common for even new cars to drip a bit of oil and gas at the time and even much later, but one would think Ford would not want to draw any attention to that in a promotional photo.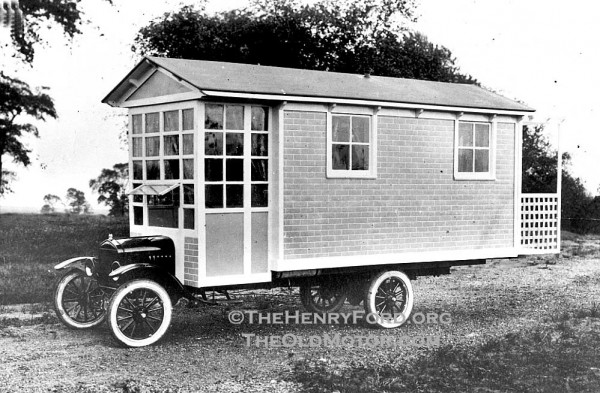 Not much we can say about the JUMBO Model T Ford motor home seen (above), other than it is one of the largest and well built examples of the many we have seen photos of. The unit is built on a Ford truck chassis, that was called the TT. Note the dual white walls and the rear porch. If anyone knows any of the history behind this house on wheels, please let us know.
Photos courtesy of the Henry Ford, where you can to learn all about the Henry Ford Museum and Dearborn Village. Many other photos from The Henry Ford, (scroll down) can be seen here on The Old Motor.