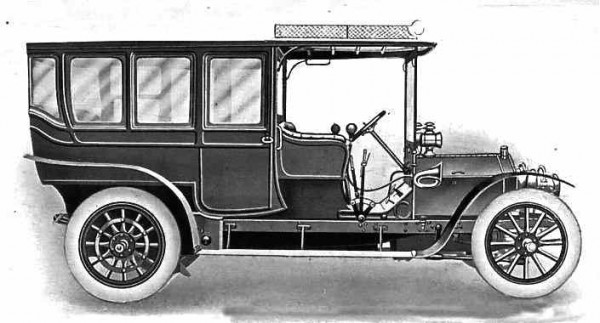 The Westinghouse Electric & Manufacturing Co. had a long early history of industrial manufacturing in the areas of electrical equipment, electric motors, generators and railroad air brakes. Many are not aware that the company also made a gasoline-powered automobile between the years of 1905-1907.
The car was designed in Pittsburg, PA., but was reported to have been built in Le Havre, France, by Westinghouse operations there. The car was popular in France, the UK and a number of them also found the way to the U.S.
An illustration and specifications as seen (above), was found in the April 8, 1907, Horseless Age. Production ceased after the French division entered into a short receivership. One Westinghouse car has survived in the Nethercutt Collection.
Other Westinghouse products are seen above and all are from the 1905 -1910 period. Left to right above are; a portable gasoline engine, an ad for electric motors manufactured for electric cars, and a belt-driven air compressor "For Automobile Garage Service".
What prompted us to show the Westinghouse automotive operations was the discovery of two short films from The Library of Congress (above and below). Both were made by the American Mutoscope and Biograph Company during 1904 and filmed by camera man, G.W. "Billy" Bitzer. The film above was shot on April 18, 1904, at the Westinghouse Electric & Manufacturing Co. in East Pittsburgh, Pennsylvania.
In the film a group of men forge weld one area of a large ring. They use the heat from a fire and weld it the old fashioned blacksmith way, after multiple heats and much hand and steam hammering. Take the time to watch this fascinating look back at how it was done well over 100 year ago. The ring is presumably a piece of a generator or motor. The thumbnails (above) show details.
This film is also very interesting and shows a steam hammer at the Westing-house works forging some form of a part for an unknown piece of equip-ment. Follow along as they take it out of the fire and forge one end of it to shape with the steam hammer. The film is dated May 4, 1904, and was also filmed in East Pittsburgh, Pennsylvania. The thumbnails (below) show details.