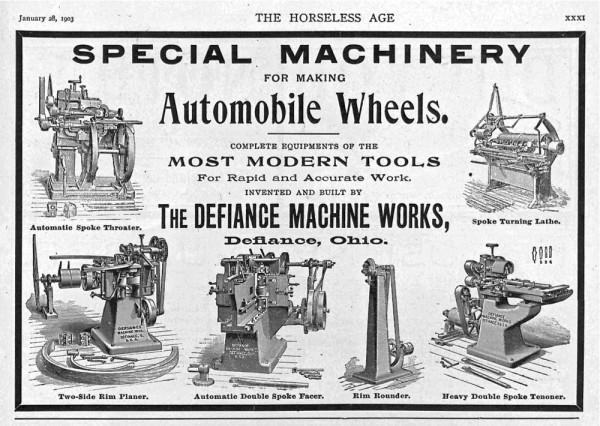 Hoopes Brothers & Darlington were wooden wheel manufacturers in West Chester, Pa. Thanks to reader Phil Neff for referring us to this Smithsonian Institution Film, showing the interesting craft of wooden wheel making, which you will see below, filmed at the wheel maker before they closed in the early 1970s.
With the exception of some of the wagon style wooden hubs seen in the film, the process is quite close to what is involved in making an automobile or truck wheel. The first part of the film takes the process from the log and sawing it, to steaming the wood fellows in an autoclave and the fascinating process of fellow bending and finishing.
The second part starts with making the hubs, it then moves onto assembling the hubs and spokes and next the fellows are installed onto the spokes. The steel fellow band or tire, is then cut to length, formed, welded and installed and compressed to make it tight on the wheel. Take the time to watch both parts as it is quite interesting.
Much of the machinery that you will see in the film is similar to and some of it may possibly be as old as is seen in the 1903 advertisement (above) for the Defiance Machine Works.
Phil Neff had the following to say about the film and company: Here is an interesting film. It's of Hoopes Bro. & Darlington wheel works. Their plant was two blocks from my shop here in West Chester, PA. They made wheels for many cars in the old days. I went in their abandoned offices in 1976 and found the factory files scattered about the floor. I took a couple folders, but should have rescued more. This film was made shortly before they closed in 1973.