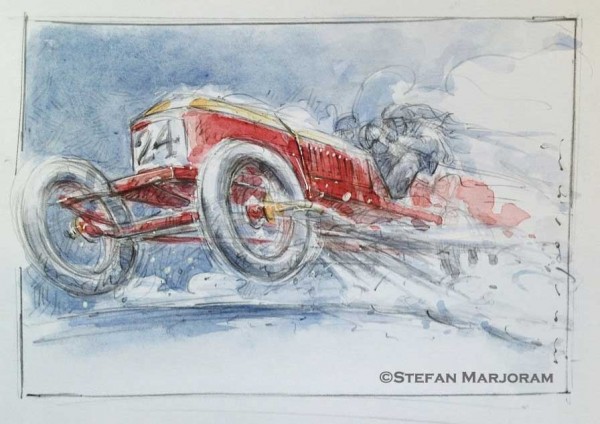 Stefan Marjoram every year does a number of sketches that he calls his Auto Art Advent series. This year the talented film-maker, artist and photographer created a film so we could watch him at work creating the sketch above. Watch the video below and follow along as it is really interesting and done in high speed. You can also visit with him at stefanmarjoram.com
In Stefan's words: For the past few Decembers I've been doing a vintage car sketch every day leading up to Christmas. As a bit of an extra surprise I thought it might be nice to see a bit of the process behind them.
Some of the cars are made up – others are actual crazy machines. I was inspired to sketch this Stanley Steamer racer after seeing a clip of Jay Leno zoom around on his (and nearly burn his eyebrows off!). There's always an element of chance involved with these sketches and this time it ended up looking like it was going through the snow – which given the time of year I managed to get away with.