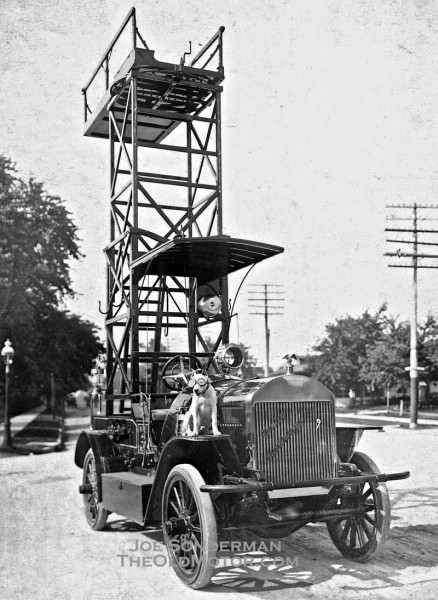 All of the very interesting photos in this post are of United Railways equipment, trucks and cars, that were taken at various times from the early teens on through to 1924. As in many big cities, street car or street railway operations as they were also called, were started in the mid-1850s in St. Louis.
The United Railways and Electric Company was a large street railway operation that had routes in many cities across the country. The Company ran the streetcars in St. Louis until the Public Service Commission took over in the city a number of years later.
The very interesting tower truck (above and below) and its trusty mascot wearing googles, was used for servicing the electric lines and equipment throughout the city. It required a driver and also a lineman who worked off of the upper platform.
The two photos (above) show us a good close up views of the truck by an unknown maker and also the platform at the top that could be rotated 360 degrees by the operator. Note the hand crank and gear drive arrangement to rotate the platform.
The photo (above) shows the United Railways station where the Eads Bridge crossed the Mississippi River. At this point the tracks made a loop in front of the station so that the cars could return on Washington Ave. The Eads Bridge Trolley Station sign can be seen over the station at the right. Note the impressive "The Electric Way" signage which must have been quite a site at night at the time.
Left to right (above) are three photos taken during 1919 of some of the sportiest cars that were in the United Railway fleet in St. Louis; a circa 1909 Chalmers roadster which has been updated with electrical equipment, a mid-teens Buick roadster and a Hudson Cabriolet.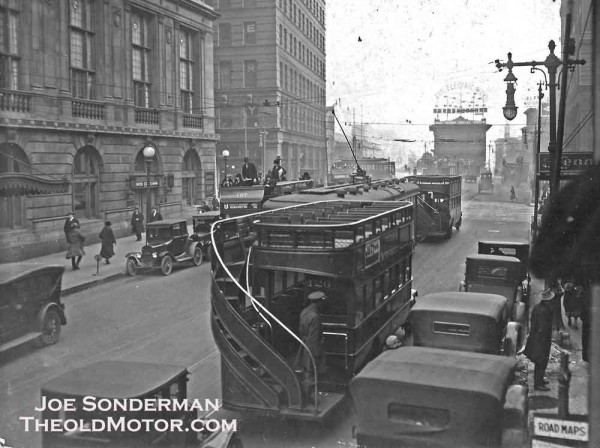 This photo depicts the Washington Ave. to North 4th Street streetcar line as it meets the Eads Bridge Station. The photo is dated 1924 and addition to the streetcars, three double-decker buses that were the competition at the time can also be seen. You can learn much more about the St. Louis streetcars here.
The photos are courtesy of Joe Sonderman who has a  Route 66 photo  collection (scroll down) that we have been posting in a series. He has written many interesting books about Route 66, one covering Arizona you can see here.