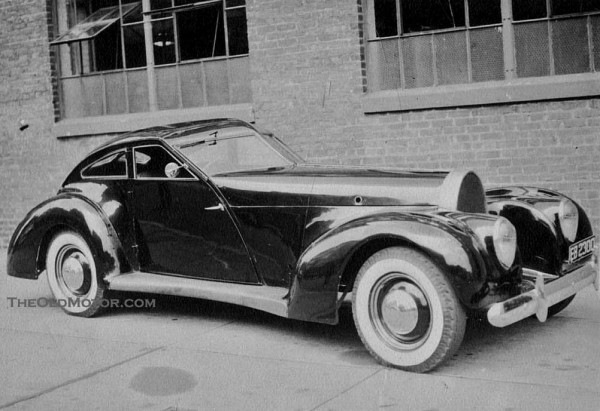 By Tim Martin:
One might say this Bugatti T43, chassis 43264, has led a busy life.  It is one of the three T43's Leon Duray received in exchange for the Packard Cable Specials (the two front-wheel drive Millers which were rescued by Griff Borgeson in the late 1950's). 43264 was originally bodied as a Weymann cabriolet and received this one-off two seat aluminum coupe designed and built by the Derham Body Company of Rosemont, PA, reputedly for owner, John Fritsche, Jr.
The T43 engine and running gear were removed by the next owner, a Los Angeles high school teacher named George Banquet. This was probably shortly after WW2. The singer and dancer, Donald O'Connor was a subsequent owner and he competed in local hill climbs with the car in the early 1950's.
It disappeared for several decades until the late Bill O'Brien found it in 1982, chained to a tree after looking for the car for years. He bought it and it remained with his collection until after his death, a few years ago. His son, Gordon, sold the car to a British restorer, who in turn sold it to Swiss collector Guy Huet who it is believed will rebody the chassis with  a Neuss-designed open tourer.  The Derham body reportedly remains in California.  For nearly 60 years, the car had a six cylinder Ford engine, but it now has a Bugatti engine once again, and is undergoing restoration.
Many thanks to PreWarWalt for the photograph, and Sandy Leith for the history of this interesting car.