This silent two part film (the second follows below), like many discoveries was made while searching for something else. It is an amazing twelve plus minute film, documenting the use of  a Walter four-wheel-drive "Snow Fighter" in the winter during the mid 1930s.
The film was shot, probably in Oneida County, New York, an area known for heavy lake – affects winter snow. The location is usually referred to as Tug Hill, but actually is the Tug Hill Plateau and is located between Lake Ontario and the Adirondack Mountains.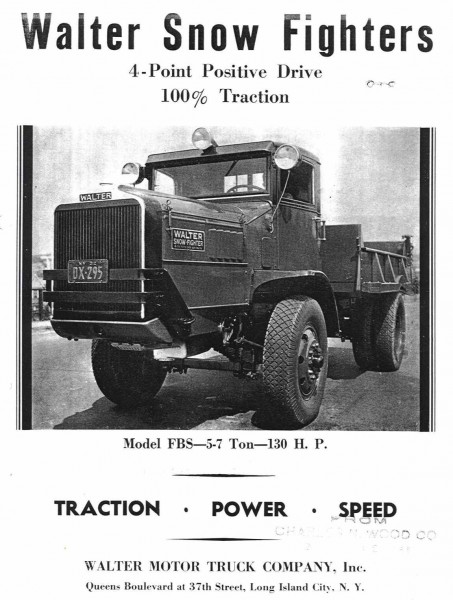 A 1932 Walter Snow Fighter Model FSB is shown (above) in a catalog illustration.
Contained is some amazing footage shot after about a five foot snow storm. You will watch as the Walter Snow Fighter driver has to bash his way, one hit at a time through some very deep drifts of up to six to eight feet deep.
The film shows how much times have changed since the days of much heavier snow falls. It also shows you some priceless footage including the locals riding in the bed of the truck for a thrill and possibly to add weight, along with many spectators.
You can also learn more about the the early pre war Walter Trucks at coachbuilt.com.