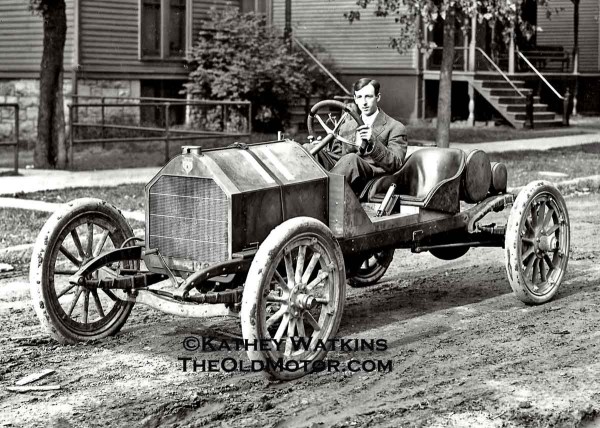 Kathy Watkins from Indianapolis, was kind enough to share these photos of her family's involvement with racing that go as far back as the early teens. We were able to find several articles about her grandfather Chester Cheney, who is seen posing above in a racing car in a photo taken by a Chicago photographer.
We are hoping our readers will be able to identify the make of the racing car that Cheney is posing in (above). We believe that it may be a Staver, which was manufactured in Chicago, and the distinctive front axle is a good clue to the estimated, thirty h.p. racers chassis. One other clue is the radiator badge in the photo (below) that appears to spell out Staver 2, in the high quality photo when enlarged and enhanced.
*Update* Tim Martin has found a photo that proves that Cheney's car is in fact a Staver. Follow this link to a photo of a Staver that used to be in Horn's (later Belm's) Cars of Yesterday, in Sarasota, FL.
The two part article (above) was found in the July 7, 1910, issue of  The Motor World magazine and tells of Cheney's feature free – for – all win, in a Staver, at Omaha., Nebraska, in a two day race meet held there on July 4th and 5th. He also won one other race and placed well in three others.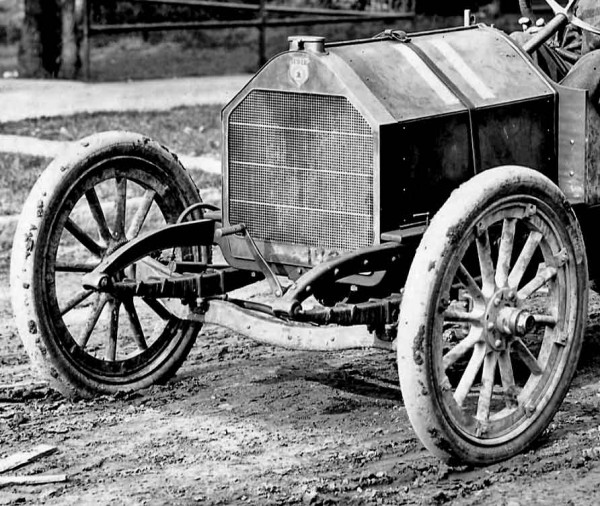 David Traver Adolphus found the following about Cheney's involvement with the Staver racing team for an article he was writing for Hemmings Classic Car in late 2009:
As soon as the new, fully developed 30hp 1910 models appeared in the spring, Stavers started racing. From the beginning, Gus "The Little Swede" Monckmeier (a German immigrant, his nickname is obscure) was their factory driver, joined that year by Ned Crane and Chester Cheney. Monckmeier had earlier worked as an engineer in the Long Island Mercedes factory, so he probably served more like a modern test driver, rather than just a racer.
Staver was in the right place at the right time, because 1910 marked the debut of the Elgin National Road Races, which instantly became one of the premier events of the day. After Ned Crane was disqualified on the final lap (for almost taking Arthur Greiner's National off the track when pitting) and Cheney's car broke down after 42 minutes, Monckmeier was left to carry the flag, taking the Fox River trophy in just over three hours before more than 50,000 spectators. From there, they were off and running, with Monckmeier sparkling at the Algonquin Hill Climb and two Staver entrants at the Indianapolis Speedway in September. There, Keifer's Class B, Division 2 entry (161 to 230-cu. in. displacement) entry took second, and Arthur Greiner finished third in a five-mile race. 
Chester Cheney must have had a busy summer in 1910, because he was also found to be  listed in a Automobile Topics magazine, dated July 23, as participating in a 808 mile reliability run in Wisconsin, which left Milwaukee on July 18, 1910. In the event Cheney drove the number 24 Petrel, a very well built mid-sized double-chain drive car that was manufactured in the city.
Cheney is known to have also worked in Hathorn's Garage, in Mason City, Iowa, in the teens. Photos of the garage and crew are shown left and right (above).

The two notices seen here were both found in the Cycle & Automobile Trade Journal, the (above) dated December, 1912 and (below) December of 1919. We will have another reference and a photo of a cycle car and Charles Hathorn later on in the text.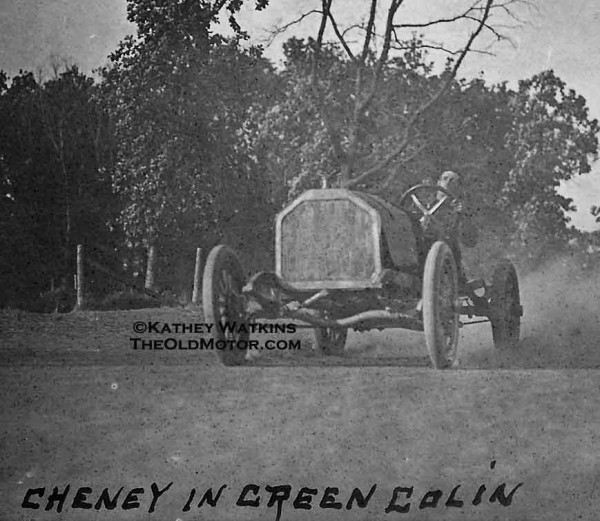 Cheney is seen (above) in what appears to be a circa 1910 Buick racing car. Below are a couple of messages he sent home to his mother while he was out on the road on a racing trip:
"Dear Mother, Say Mother can't you come down to Harlan and see me? I will be here until the 13th. I won everything at Grand Island and the prettiest cup you've ever seen. Please come, your son Chet" it's posted in July, but undated. Another card is from Mason City, Iowa, posted Oct. 1912. "Dear Mother, will drop you a card letting you know I am all ok. We are heading for Blue Tooth (?) Minn tomorrow. All the races here came off fine. I hope I will see you before going off to Chicago. Your loving Son"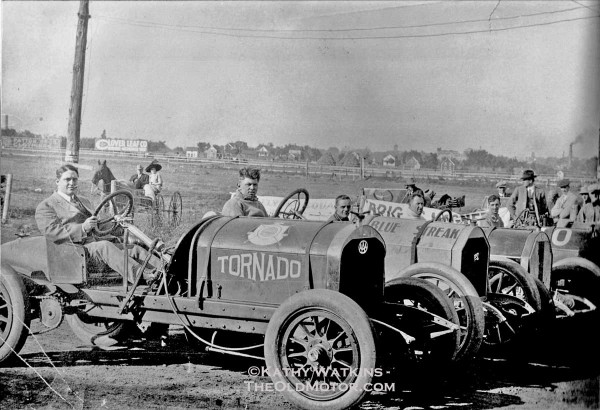 The photo above again shows Cheney, fifth in the line up here, at a race meet that appears to be either at Souix City, or Mason City, Iowa, circa 1912, based on the signage seen. Possibly Charles W. Canner is in the Tornado which appears to be 150hp De Dietrich  special (see below), next is an unknown driver in the Blue Streak. The third car from the front appears to be a t-head Mercer. Chester Cheney is seen in the fifth car right next to the rail. The messages of the postcards earlier to his Mother and this photo above might point to the possibility of Cheney having raced for Pickens after Staver.
* Update *  From Ivan Pozega from Australia: In 1912 at the Big Four Fairgrounds in Nashua, IA., a 150hp De Dietrich "Tornado" driven by C. W. Cannar won the 1 Mile Exhibition ahead of Marion Arnold (died in a crash  Sept. 13, see below) in a Marquette Buick and an Arbenz "Blue Streak" posting third fastest time.
I was only able to find Chester Cheney at one event at Albert Lea Fairgrounds, MN in 1912 driving a car entered as the Green Goblin which was in fact a De Dietrich 'Torpedo'.
* Update * From Carl Schultz: An article in The NY SUN Nov 3, 1912- titled 'Safeguarding Track Meets' (above); AAA Contest Board took action recently against Charles W. Canner a driver who manages "The Marshall Flying Squadron" and suspended him for close to three years for running dangerous unsanctioned race meets in Iowa and Nebraska.
At the Harlan, IA (date not given) where the dust was not treated with oil, the top rail was not removed and a team driver, Chester Cheney went through the fencing in his Buick racer (could be the same car pictured above) and lost his right arm. Later "the same  car driven by Marion Arnold on Sept. 13, went through the fence on the curve, killed its driver and injured a number of spectators". (Cheney's Granddaughter confirmed the news story is not true as he had both of his arms his for his whole life).
Read the two clippings (above) for the interesting details of the story.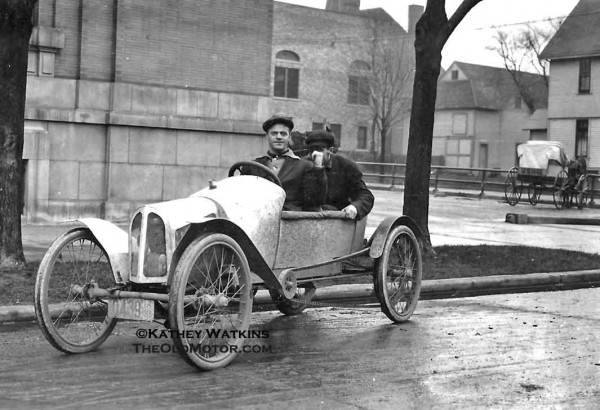 This photo of a cycle car wearing a 1913 Iowa plate, has the following note on the back: "Cyclecar made by yours truly and Charles Hathorn & Chet Cheney….Sixty miles per hour on dirt roads". Note the U.S. Mail wagon and horse in the background.
The photo left (above) may have been from the cycle cars initial layout stages, which may only be a ladder resting on the axles for a photo.
Kathy Watkins noted the following about the middle photo "This is my Father Chester W. Cheney, my Mother Peg Cheney was the trophy girl, he raced jalopies in Vegas" The right hand photo shows him with the car. Watkin's adds "My Mother and Father met while he was building a car to enter in the Indy 500 in 1953. My Husband Sam Goldsmith worked in IndyCar for 9 years too. It's in my blood". Photos courtesy of Kathy Watkins