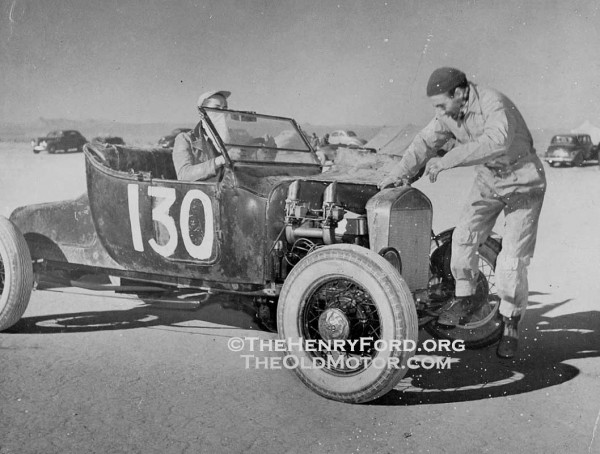 *Update* This car has been identified thanks to our friend Clayton, as the Roy "Multi" Aldrich's T that he built in the late 20's or early 30's. This car was one of the early "Gowjobs". It appears to have been run at the dry lakes pre and post war and "Multi" entered and ran this car at the first Bonneville "Speed Week" in 1949 and again through at least 1952. Two photos can be seen of it (below), the first is undated, the second photo was taken at the Bonneville Salt Flats in 1952.
A full description by Roy Aldrich can be found at the bottom of the post about how he built it and what parts he used. The car has survived in excellent condition.
This pre war dry lakes racing photo is one of our favorite later photos from the Henry Austin Clark collection. It shows a Model T Ford racer being kick-started with the hand crank. The engine is equipped with an eight-valve Rajo overhead valve conversion head, possibly a Model B or BB racing head with a pair of dual down-draft carburetors on a special intake manifold.
It appears to possibly be a press photo, so at this point we do not know if this photo has been circulated at all. Study it and if you know any details about the car, owner, date or the race meet, please send us a comment.
Photo courtesy of the Henry Ford, where you can to learn all about the Henry Ford Museum and Dearborn Village. Many other photos from The Henry Ford, (scroll down) can be seen here on The Old Motor.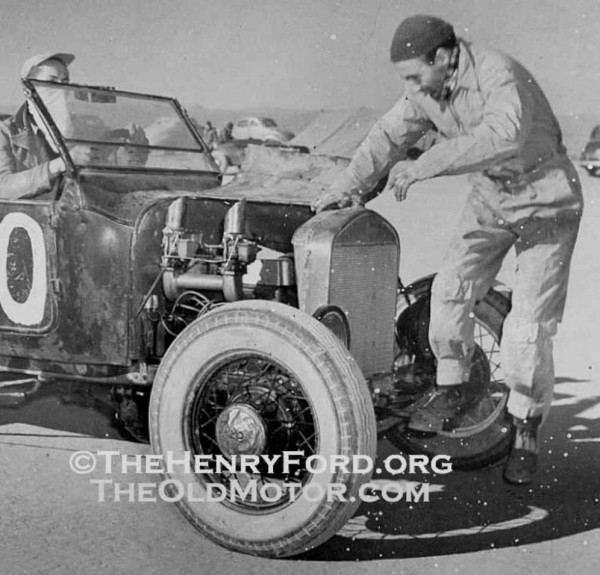 These are Roy Multy's know words about the Roadster: Built in 1932 – the frame and rear spring are dated Oct. 1913 – body is 1922 – turtle deck about a '23 or '24. Steering gear is from an Essex, ignition switch is Buick, instrument panel hammered out from an early Cadillac aluminum body parts, hood is from a '27 or so Oldsmobile, sidedrive is Chevrolet "4", distributor cam is Ford V8 with every other cam lobe ground off, a Durant 4 distributor drive gear – distributor is from a Nash 8 cylinder car with dual plugs – I use a Rajo overhead valve conversion head drilled out for 4 extra plugs on the left side – to make it a dual ignition system! Oh yes, oil pump is from an early Cadillac and the special oil system holds 10 qts. of oil!
The car has survived is owned by Don Lang from Lang's Old Car Parts and he and his son Steve are in the process of mechanically restoring it.