Gooding & Company is having their first sale of the New Year in Scottsdale, AZ., on Jan. 18 & 19, 2013. We have picked out several pre and post war automobiles from the catalog to share with you. As always the offerings are always carefully selected and represent the best the market has to offer. For this feature we have picked out this attractive 1947 Nash Ambassador Suburban.
Sensing an opportunity in the booming post-war marketplace, Nash Motors introduced a stylish wood-paneled version of their popular Ambassador called the Suburban. Featuring high-quality ash framing, with mahogany paneling supplied by Mitchell-Bentley of Owosso, Michigan, the Suburban coachwork was based on the handsome "slipstream" sedan, a classic 1940s streamlined design.
Intended as an image-building halo model, the Suburban came loaded with options, such as "Cruising Gear" overdrive, a trend-setting "Weather-Eye" heater, and a remote control Zenith radio, which enabled the driver to change stations at the touch of his toe.
Production of the Suburban was extremely limited. Between 1946 and 1948, Nash sold exactly 1,000examples of the exclusive Suburban; in 1947, 595 Suburbans were built, accounting for a mere 1.5% of Kenosha production.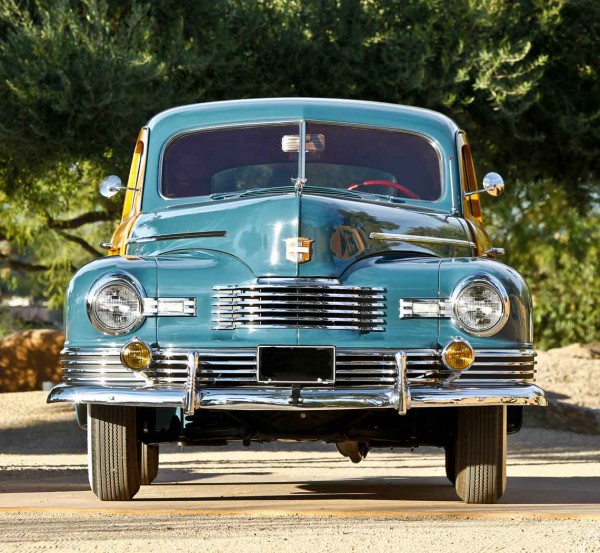 Extremely rare when new, the survival rate of these fascinating wood-trimmed Nash automobiles is incredibly low. Today, fewer than 20 examples are known to remain. Of the limited number of survivors, the Suburban presented here is quite possibly the finest restored example to survive.
The history of this wood-trimmed Nash can be traced back to the 1970s, when the rare Ambassador was in the possession of Darrel Hagen of Puyallup, Washington. In late 1977, Kim Norback of Sebastopol, California, purchased the car from Mr. Hagen and performed a light mechanical restoration.
In 1984, Linn Davis of Sunland, California, purchased the Suburban from Mr. Norback and sold it to Nash collector Jerry McIntosh of Tucker, Georgia, two years later. After preparing the car for a thorough restoration, Mr. McIntosh advertised the project for sale in spring 1992.
The unusual Nash immediately captured the attention of James Fritts, an East Coast collector with an interest in fine American classics. After negotiating a purchase, Mr. Fritts commissioned Chris Davis of Charleston, Illinois, to perform a show-quality restoration and sent the original wood paneling to David Kraus in Allendale, New Jersey, for cosmetic attention.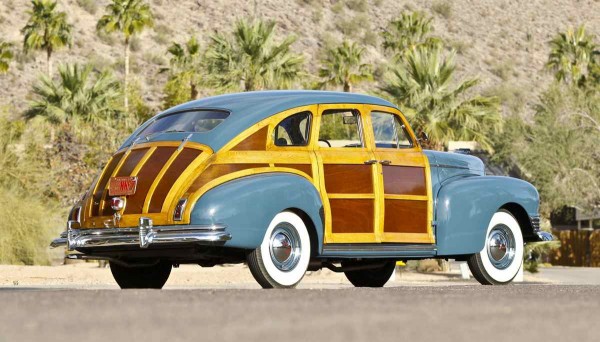 In 1995, the complete restoration was begun with the intention of competing at the highest levels of judged competition. Throughout the process, Mr. Fritts conducted extensive research on the model and spoke with leading marque specialists to ensure accuracy in every detail. Completed in March 1999, the Ambassador Suburban was finished in Strato Blue, a correct 1947 Nash color that offers a striking contrast to the fine wood paneling and dark red upholstery.
In 1999, the Nash earned its First Junior and Senior Awards at AACA National Meets in Tennessee and Virginia. Over the next five years, the beautifully restored Suburban was displayed at numerous AACA shows and earned many impressive awards including Best of Show, Best Discontinued Auto, and President's Cup.
Between 2000 and 2002, the Suburban continued to draw a favorable response at local and national concours. In 2000, it received Best of Show honors at the Central NASHional in Branson, Missouri; in March 2001, the Nash won its class at the famed Amelia Island Concours d'Elegance; and in 2002, it received Best in Class at the Grand NASHional in Racine, Wisconsin. Thanks to its outstanding concours pedigree and extreme rarity, the Suburban was the subject of feature articles in both Woodie Times and The Nash Times.
Offered with an extensive file of documentation that includes factory literature, correspondences, service records, and model history, this magnificent Nash Ambassador Suburban represents a once- in-a-lifetime find for collectors with an appreciation for unique examples of Americana.
All photos and words are courtesy of Gooding & Company and you can see the other 150+ lots in the Scottsdale auction presented on their website.