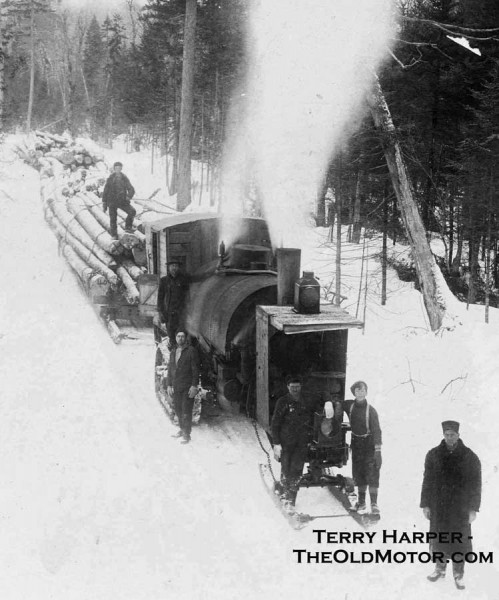 We are having a nice gentle snowfall here today at The Old Motor shop, that is covering the countryside and woods with a nice new blanket of snow. The storm brought us to thinking about this fine pair of photos of a Lombard Steam Log Hauler and its crew deep in the woods, pulling out a load of logs as seen above.
Note the young boy standing on the right hand steering runner at the front of the machine and another crew member standing on the left hand track operating the steam whistle. To operate one of these machines took a crew of four.
The Lombard was invented by Alvin Orlando Lombard and first patented in 1901. It was a very creative way of combining the power of steam, with tracks to move lumber out of the woods. Previous to this invention logs were pulled out of the woods with horses.
Just above in enlargeable photos is an interesting article titled: How Self-Taught Lumberjack Invented the Worlds First Endless-Tread Logging Tractor. It was written by John Walker Harrington and was in the January, 1923, issue of Popular Science Magazine and tells of Lombard's life and his invention. The article also tells us a bit about his gas engine tractor that followed.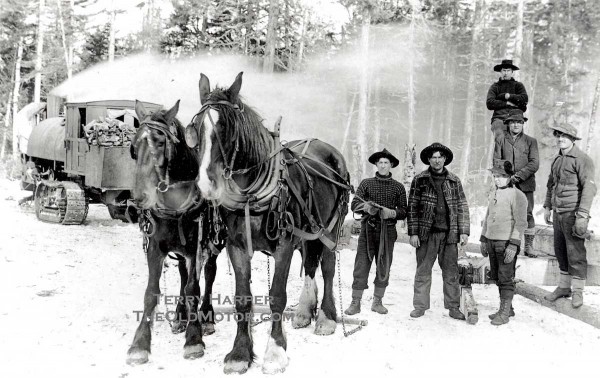 Here is a good close up photo of  a logging crew (possibly the same as above) and a team of horses that were still required to pull the logs to the steam tractor and its carriages. A friend Terry Harper is restoring a huge a 1575 lb. 6 cylinder Model PT Wisconsin engine that dates from 1925 and has a 5-3/4″ x 7″ bore and stroke. It came from a Lombard Model N log hauler. We hope to do a post about this engine soon and the data and motometer plates that he also replicates.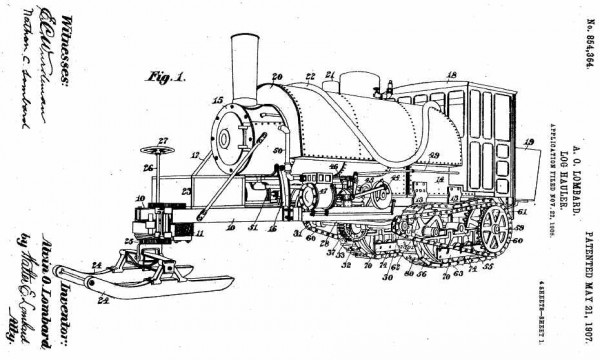 Above and below are the drawings for Lombards later design, which he received a patent for on May 21, 1907. By studying the drawings one can get a very clear view of how his early machines were constructed. Dan Strohl of HMN has also done a very detailed post on the Lombard Steam Tractor, which contains many more photos and another video, both of which you will find to be very interesting.
Just above you can see a Lombard quite similar to the one seen in the patent drawing in action. This Lombard Log hauler was steamed up and running at the White Mountain Central Railroad at Clark's Trading Post in Lincoln, NH.