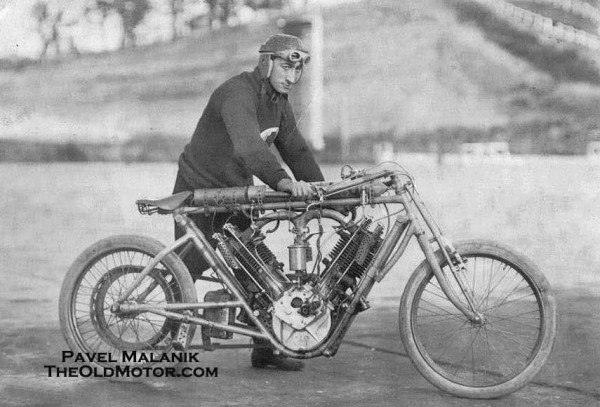 * Update * Thanks to reader Martin Shelly of the UK for providing many of the details about both machines and the riders. Check his comment below for the details.
"The North London Garage, of Corsica Street, Highbury, London, North, is now specializing in the tuning up of motorcycles for hill climbs and club competitions"  That quote came from the The Motor-Car Journal, Saturday, June 13th. 1908, issue and from the looks of the machines seen here, they must have known what they were doing.
Little is known of the machine shown below other than they seem to have featured the same monster J.A.P. engine. The photos are courtesy of Czech expert motorcycle restorer Pavel Malanik. He has information which states that this first machine constructed was un-rideable probably because of the lightweight single loop frame. C.R. Collier is seen posing on it in the photos.
The second version of the machine seen at the very (top and bottom), featured a much stronger rigid frame style frame (note the single bicycle type brake on the front wheel). With it W.E. Cook set a speed record of 90 m.p.h. or 144 km/h on the Brooklands track in England.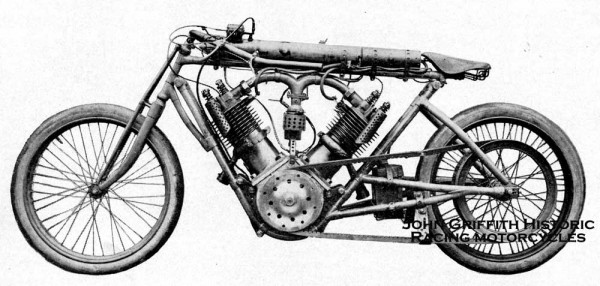 In studying the details of the engine it will be noted that it appears to have two exhaust ports per cylinder. It also appears to have auxiliary exhaust ports at the bottom of the piston stroke. The cuffs half way do each cylinder and the tubes pointing downward from them seem to indicate it is so equipped.
The John Alfred Prestwich  80 degree engine, is stated to have a square bore and stroke and a massive 2714 cc volume of displacement, which works out to 165.62 c.i., a huge engine for a motorcycle. Early on in the speed game of all types, one of the ways to success was with a large engine, as the science of making power was still being developed.
If any of our readers can add more to the story of this incredible machine and its rider please send us a comment. Top photo from Motor Cycle magazine. Photo (above) sent courtesy of Martin Shelly.