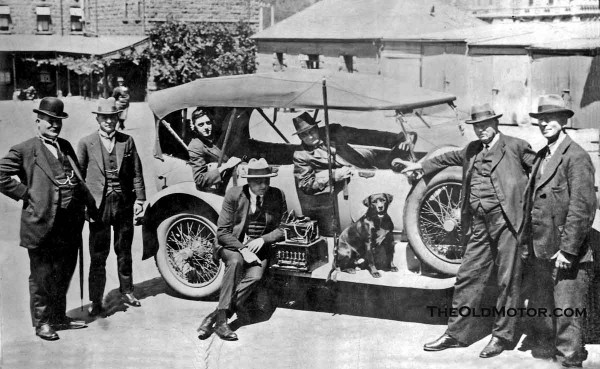 This pair of photographs are from the March 4, 1923, issue of Popular Radio Weekly. Shown is a 1923 Lancia Trikappa Tourer Motor Patrol Car owned by the Australian Victorian police, which was used as a patrol car. The police were showing the 7-stage amplifier with a tuning condenser they were using for short range transmissions. The antenna was a piece of wire hung over the pole clamped onto to the running board.
The police were also showing off another tool used to in fighting crime, the police dog on the running board. Radio Weekly stated that the police dog had been very useful in tracing criminals when the car has been called to burglarized premises. We have two just like the police dog here at The Old Motor and they never fail let you know if anyone comes on the property and they are always sure let you know about it.
Mark Nugent who sent us the photos mentioned the following about the cars; Instead of selling the cars when the police upgrade to newer model, the patrol cars were destroyed in a few years when worn out to stop organized crime gangs from buying them and posing as police officers. Mark Nugent runs Nugent Coachbuilders in Australia. They are going to be building a replica body for a similar Lancia soon. Take a moment to visit with them and see some of the amazing work that they have done.