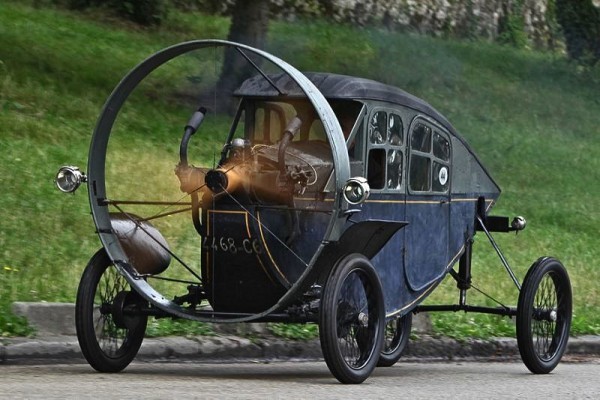 Retromobile the celebration of the automobile in Paris, France, is coming up soon on February the 6th.-10th. Every effort is made by the organizers to to put on an interesting and educational expo every year. This year one of the exhibits will be the Helica designed by Marcel Leyat, a favorite curiosity of ours.
Retromobile has the following to say above the interesting vehicles: This bizarre machine, christened Hélica, was designed a century ago by Marcel Leyat. It's a hybrid vehicle halfway between a plane and a car. 
The design of this strange vehicle went against all the principles of auto construction at the time, because Hélica didn't have a gearbox, a driving system, or a drive wheel!  This revolutionary prop-driven car was very light, simple, cheap to run, and fast.
Its performance was amazing: it could do over 60 mph and weighed less than 300 kilos with two passengers.
In 1927, a Hélica with low-slung bodywork achieved speeds of 106 mph on the Montlhéry circuit. 
Marcel Leyat was an extraordinary man, an engineer with a philosophical bent who had a very varied career, working for example on prototype planes and patenting a revolutionary method for learning musical scales! He built 23 Hélica's between 1913 and 1926. 
In addition to the Helica, Retromobile will as always have a very entertaining display of antique and vintage cars, with many other things to see and do all, of which you can learn more about at en.retromobile.com
The amazing machine seen here in the colored photos, will be at Retromobile and is from the Jean-François Bouzanquet family in France, where it has been since new. You can see many more photos of this car and other Helica machines and learn more about them at www.helica.info. The black and white photos above, of a Helica at the Eiffel Tower are courtesy of Isabelle Bracquemond, secretary of the French Indian Motorcycle Club.
You can also see many more interesting machines made in France (scroll down) in a series that we have been posting here on The Old Motor.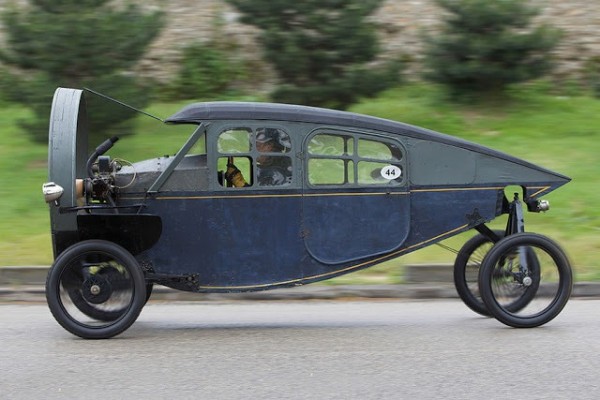 Below is a short period film made in Paris, France, which will show you one of Marcel Leyat's Helia machines in operation on the streets of Paris at the time. We have posted this before, but it bears repeating now.