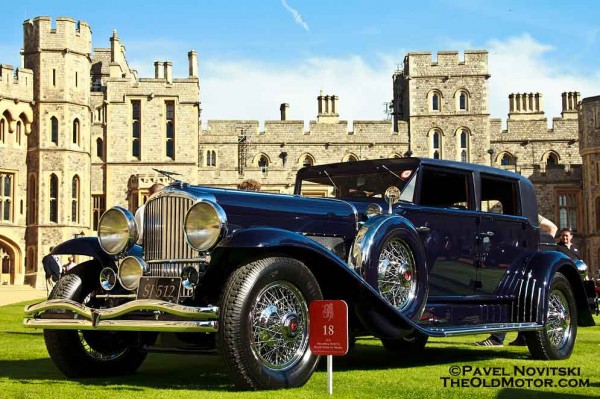 The middle of the winter is upon us and we thought that a little sunshine, green grass and some of the exceptional cars seen at the Windsor Castle Concours in England this past summer, might brighten up your day a bit.
This 1933 Duesenberg Beverly Sedan with coach work by the Walter M. Murphy Co., (above) is in our mind one of the most refined looking and attractive Duesenberg Model SJ cars built. It is one of only 45 Duesenbergs produced with a factory-installed supercharger. Powell Crosley who made a fortune in radio and electronics took delivery  of the car on July 1, 1933.
You can also see another surviving Duesenberg Beverly Sedan here on The Old Motor along with the The Fred Roe Collection of Duesenberg photos (scroll down).
Left and right (above) is a 1931 Daimler Double-Six 50 Sport Drophead Coupe. The body was modified and repaired by Corsica after an early accident and the result was this spectacular result. This is thought to be the only underslung Double-Six car built. It is powered by a 150 bhp V12 sleeve valve engine with a fluid flywheel and backed up by four-speed Wilson epicyclic pre-selector gearbox. This car won the best of show honors at Pebble Beach in 2006.
The photo in the middle (above) shows details of the intake side of a 1931 Bentley 8 litre engine.
The photographs seen here are by Pavel Novitski and we will show more of his excellent work here in the near future of the Concours, to brighten up yet another winter day. In the mean time you can see more at pavelnovitski.com or look back here on The Old Motor to some of his other work.