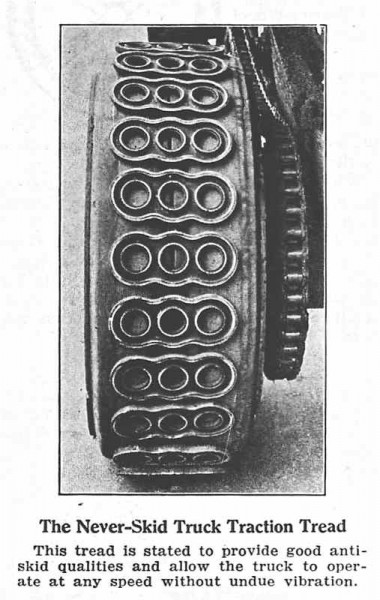 Winter time is the perfect time to take a look back at traction devices invented and used in days long gone by. The dual truck tires (above) had die stamped and hardened steel lugs installed crossways over the hard rubber tires.
Just as today tires with aggressive tread patterns were also available quite early, with the Firestone Non-Skid being the most well known. The clever Firestone marketing people did a remarkable job, as anywhere a car went with their tires the imprint advertising the tires was left behind.
In addition to the knobby tread on the left, there were also tire protectors which would change most tires, which were smooth tread at the time, into one that provided with better traction. There were two types made, of leather as seen in the middle and covered with studs and of rubber as on the right.
The all time best offense especially on ice is the tire chain, many of which were hardened to reduce wear. The Weed chains on the left are one of the best known. The Slama tire chain in the middle, was made of a mesh type of chain and the Zig-Zig on the right looks quite aggressive.
Early cars and trucks with two wheel brakes were much more dangerous to operate in ice and snow than later vehicles with four wheel brakes. This accounts for all of the old photos that can be seen of cars in muddy or winter conditions with tires chains. The chains did help out with traction but they were also necessary to help with stopping.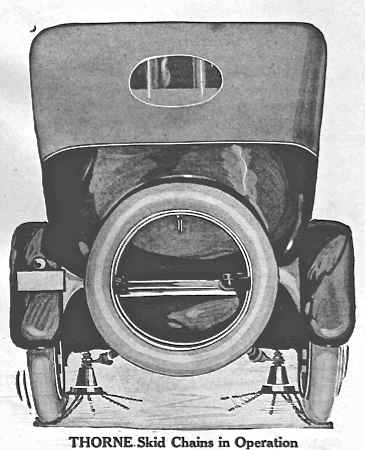 This post was inspired by reader Tom Jakeway who sent us an ad for the Thorne skid chains seen above. The units swung down into position when needed and the bottom section of the bell-shaped chain-holder was rotated by the tire, which kept flinging the chains in front of the tire. A similar device may still be manufactured for use on emergency vehicles.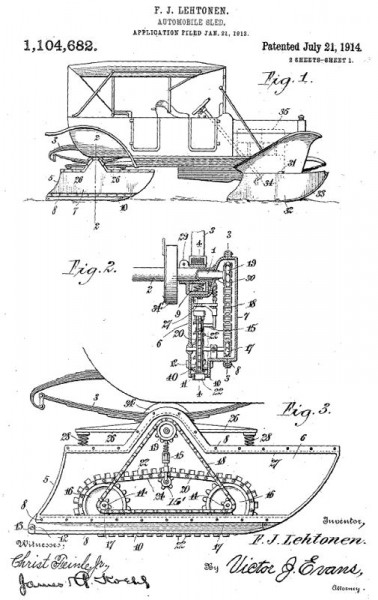 And if all else fails, you can always break out the auto sleds we found by doing a patent search. The half-track above ought to be able to go most of anywhere in style and the two spiked-wheel sleds (below), look like they would be just dandy on ice.