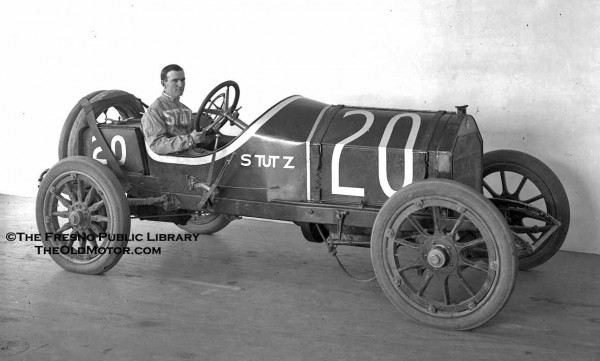 Famous early racing driver Earl Cooper is seen here posing in his early Stutz racing car. He went on to a long and successful racing career. His racing car was based on the well know Stutz Bearcat, which featured a strong and powerful 389 c.i. Wisconsin t-head engine.
Above is an amusing film called The Speed Kings, that was made around the time of the 1913 Santa Monica Road Races, which Earl Cooper won in his Stutz. In it Mabel Norman is the star and you will also see rare footage of Cooper, Fatty Arbuckle, "Terrible Teddy" Tetzlaff in his Fiat, Barney Oldfield in his Mercer in which he finished second. Full details of the race can be found in an article in The Automobile Journal (below).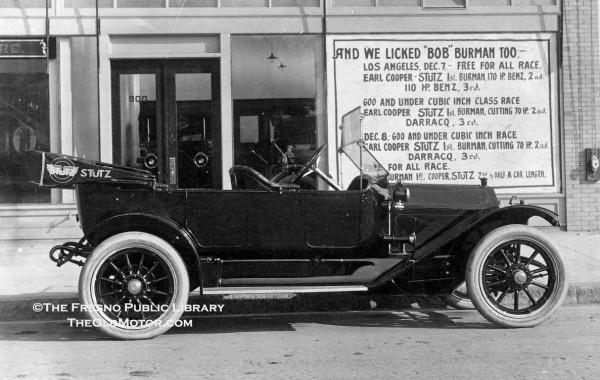 The Stutz Touring Car (above), appears to be parked out in front of a Stutz Dealer who is using the results of a Los Angeles race to promote the car. This photo and the one at the (top) appear to date from the 1912 or possibly early 1913. Bob Burman's Cutting listed on the sign seen (above) is likely to be the same car, which we have a photo of here on The Old Motor, that he also ran in the 1912 Indianapolis 500. 
Both photos seen here, were taken by  Claude C. "Pop" Laval and are courtesy of The Fresno Public Library via Calisphere. More about Earl Cooper here.