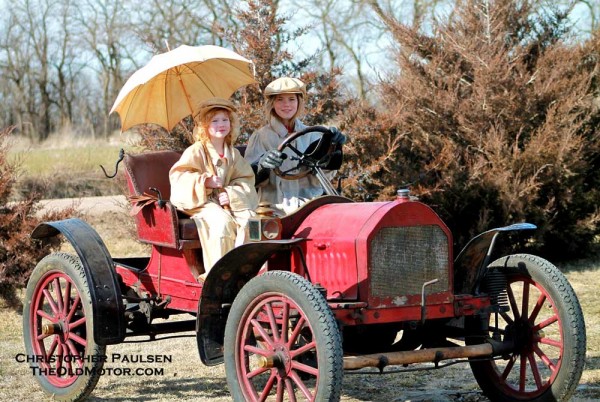 Good friend Christopher Paulsen is a third generation old car collector and this photo shows his two daughters, Elley who is four years old and Abbey who is nine. They were out for a ride this past weekend in their grandfather Gary Paulsen's 1912 Brush, which Abbey has found she is able to drive as it is operated by only one pedal and the gas and spark controls are both on the steering column. Gary Paulsen's parents also toured in brass cars and he is delighted that his grandchildren are interested it it also.
The Brush was produced between the years of 1909-1912 and was touted as being Everyman's Car. It truly was because it was introduced at a cost of only $500 and served as the perfect car to learn on as it was very simple to operate.
It changed little over the production run other than a two-cylinder engine being offered only in 1908. This four page article from the Dec. 12, 1909, Cycle & Automobile Trade Journal gives you full details of the little car that featured wooden axles and frame. You can also learn more about the Brush automobile here.
Abby and Elley's Dad Christopher Paulsen teaches at the McPherson College Automotive Restoration Program we are running a benefit for.  The whole family tours in brass era cars regularly with the HCCA.