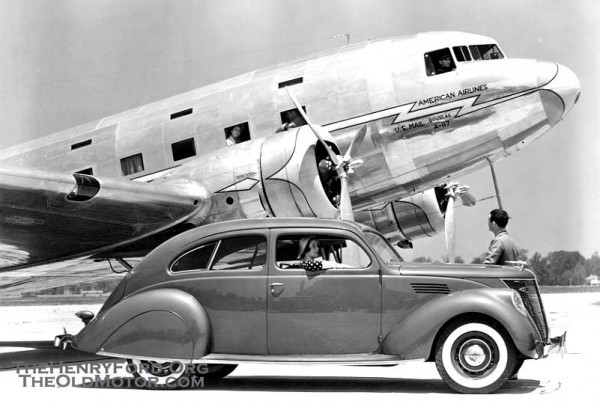 This publicity photo by the Ford Motor Company, which was taken in 1936, is showing off the all new Lincoln Zephyr. The new teardrop design came out at a time when streamlining was all the rage. It was cleverly parked next to a Douglas DC-3 airplane, when the photo was taken to heighten its modern look.
The drivetrain was quite similar to the Ford of the time with the exception of it having a new 267 c.i. V-12 engine, with a 2.750″ x 3.750″ bore and stroke. The new car featured integral body-frame construction that rode on a 122″ w.b.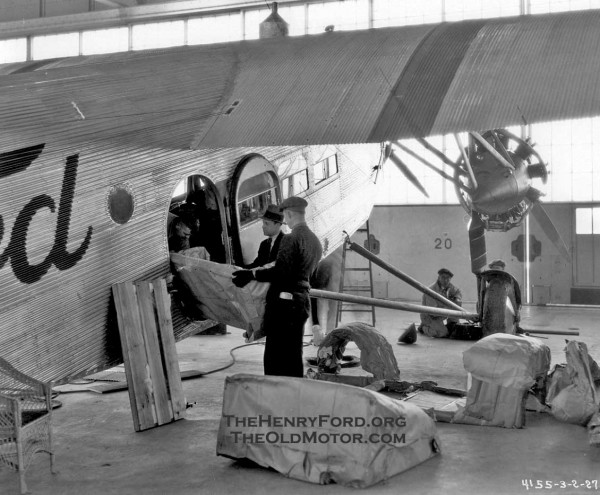 Above is a Ford Motor Company photo taken only nine years earlier than the photo (at the top) and shows us the rapid progress made with not only automobiles, but also with airplanes. The photo is dated, March 2, 1927, and shows a Ford Trimotor airplane being loaded with what appear to be Ford auto body parts. This may have been a Ford publicity photo to show the aircrafts freight capabilities.
DO NOT MISS seeing this short film showing Harold Johnson at an air show, where he looped, spun and snap rolled a Ford Trimotor during the 1930's. Johnson reportedly performed 17 consecutive loops during one demonstration. The film was found in in the archives of HistoricAviation.com
The photos above are courtesy of the Henry Ford, where you can to learn all about the Henry Ford Museum and Dearborn Village. Many other photos from The Henry Ford, (scroll down) can also be seen here on The Old Motor.