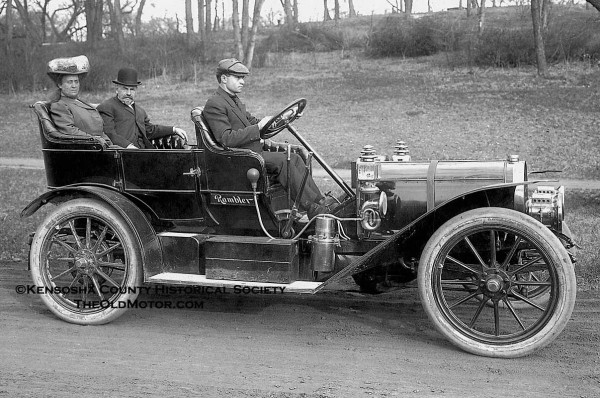 This is our second post here on The Old Motor, covering  the early Rambler and we jump ahead to cars that appear to all be from the 1907-1908 time period. The company had already moved from Chicago to Kenosha, Wisconsin and was constantly expanding the factory, introducing new and improved models and doing very well at the time.
Thomas B. Jeffery, his wife and chauffeur are seen here (above) posing in a very attractive demi-tonneau touring car.
Photos at the factory left to right (above); In 1907 and 1908 Rambler still offered two-cylinder cars but this roadster is the larger four, the "Road Test" department and the "Body Room"
Left to right (above); An interesting article in the Automobile, May 23, 1907, issue about a 222-hour non-stop record run, a 1908 advertisement from the Automobile and an article by Hugh Dolnar in the August, 1908 Cycle and Automobile Trade journal describing the car in detail.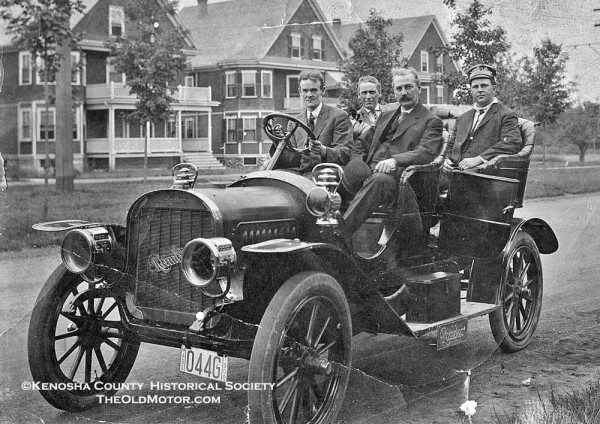 Above appears to be a 1908 Model 44 with a 34 h.p. four cylinder engine and a chassis with a 112″ w.b. The Rambler sign attached to the running board would lead you to believe this was a  Mass. dealers demonstration car.
You can look back here on The Early Ramblers of Thomas B. Jeffery -Part I. We have excellent photos of a 1906 Rambler Type 3 Surrey here. Photos courtesy of the Kenosha County Historical Society and the University of Wisconsin Library.