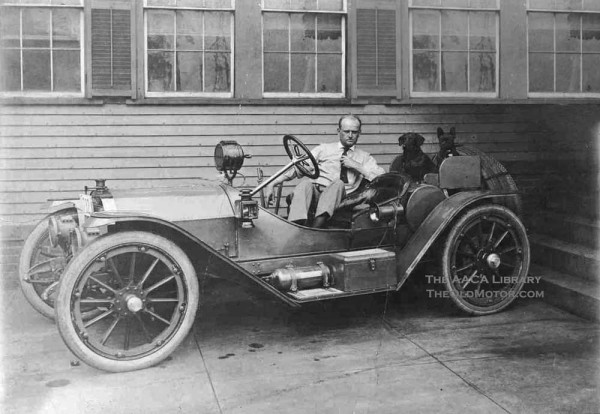 Now here is a photo that we here at The Old Motor can really connect with, as it contains two of our all time favorites; a 1911 t-head Mercer and a pair of dogs. As we write this in the middle of the winter, in front of a roaring fire in the wood stove, on a cold and snowy New England day, we are fortunate to have both here in our shop, a Mercer Raceabout and a pair of Black Labs sleeping on the floor near the stove.
The Mercer is with out a doubt, the most enjoyable, fastest, attractive and best handling American light car of the period. In racing form it went on to win many important races, along with countless other events across the country. In the mid 1960s when Automobile Quarterly Magazine did a feature story on the Raceabout, it was found that it had the very same performance capabilities at the time, of the then current MGB. Even today driven briskly on a twisty road today, you can leave many modern cars behind you.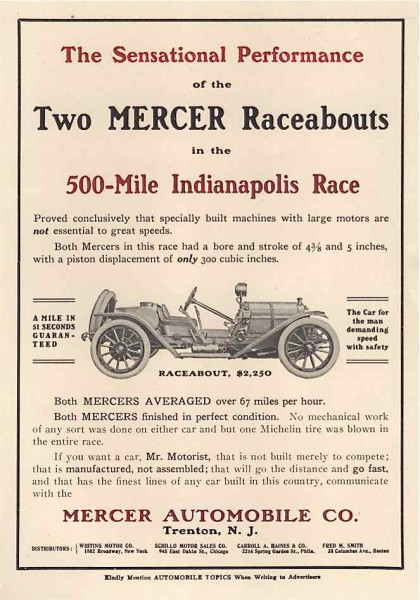 The Mercer seen here (top photo) is the Runabout Model, that is quite similar to the famous Mercer Raceabout, with the exception of the cowl and the seats (the three sided box on the back for the dogs is an addition, along with the headlights). The 1911 Mercer Raceabout shown here in one of our earlier photos, shows you the lower seats and smaller cowl, as does the period advertising. We have eight pages of photos here that you may enjoy, related to the Mercer Raceabout (scroll down), were you can learn more about them. The photo is courtesy of the AACA Library blog.
Advertisements (above) from various trade magazines show left and right; the new 1912 models, and 1911 Elgin Road Race results.