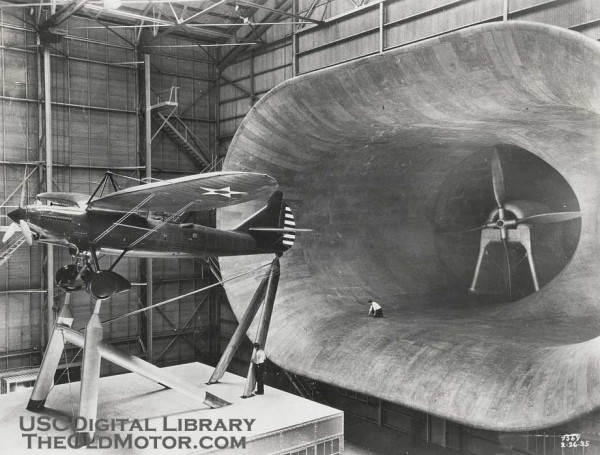 We on occasion post interesting aircraft related photos and after seeing the photo (above) at the USC Digital Library, we felt you would enjoy viewing photos of this impressive wind tunnel. It was built at Langley Field, in Hampton, Virginia, in 1934, by the National Advisory Committee for Aeronautics, or NACA and at the time was the largest wind tunnel in the world. The photo dated Feb. 2, 1935, shows a Douglas Army observation plane mounted for testing.
The photo (below) shows the building atop of which the aircraft were fastened to for testing. Shown here in a LOC photo dated 1938, is a "Brewster Buffalo" in the tunnel for drag-cleanup studies. More photos of the Langley Field wind tunnel can be found here.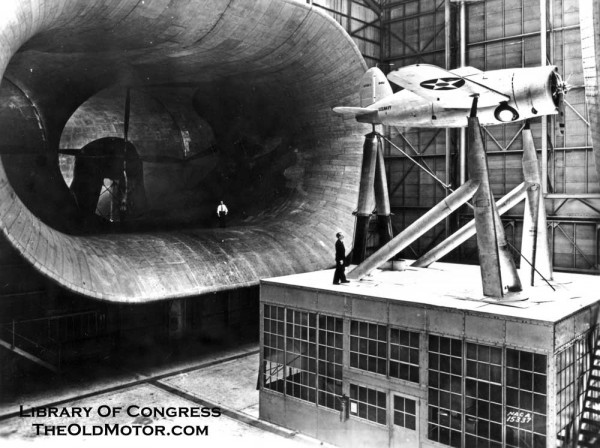 A very interesting United News Newsreel film (below), dated 1944, shows a wind tunnel built for testing airplane propellors. In the film you will see a propeller over sixteen feet in diameter mounted onto a 2200 h.p. radial engine used for testing.