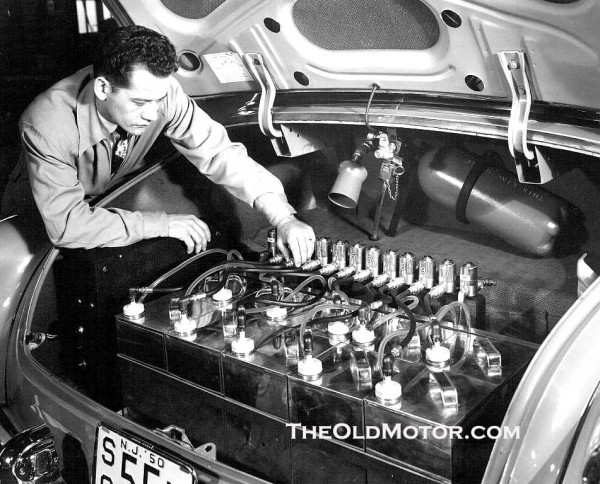 This pair of press photos taken by Willard Stewart Inc. of Wilmington, Delaware, for the DuPont Company, show us the test car they had specially equipped for testing different fuels and blends during 1950.
In the trunk (above), that is setup with an automatic CO2 fire extinguisher, are six tanks of reference fuels, which are between 80 and 92.5 octane and are blends of isooctane and n-heptane. The other four tanks are stated to be for test fuels.
The custom dashboard shown (below) in the test car, has a row of pushbutton controls in  on the bottom for venting and selecting the fuel that is desired. Above each button is a red indicator light. At the left of the buttons is the exhaust pressure gauge. Left to right in the top row are: vacuum gauge, tach, spark advance gauge, a temperature selector dial and a temperature gauge (possibly for fuel temperature?).
The window seen on the transmission tunnel, shows the flywheel timing marks that are lit by a timing light and the handle on the floor is for changing the ignition timing.
The car appears to be a GM product and we are confident our readers will be able to identify it.  Photos courtesy of the Benjamin Ames collection (scroll down).