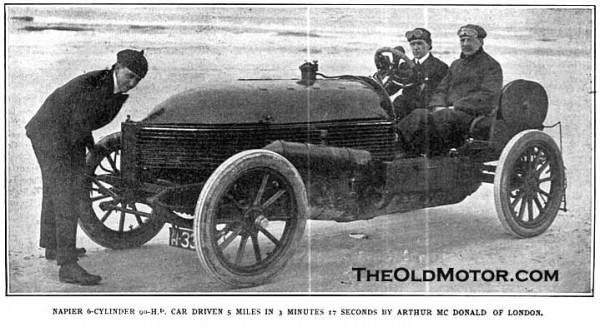 At the Ormond Beach Auto Races, held on the last week of January, 1905, the worlds record (not recognized by FIA) was broken not once but three times on the same day. The standing record of 92.31 mph was  first broken by Louis Ross in his twin-engined steam-powered racer, at 94.73 mph. More photos of it can be found here on The Old Motor, along with a short film showing it and others in action on at the 1905 Ormond Beach Races.
Minutes later that record was broken by Arthur MacDonald in his 90 h.p. Napier (above), with a speed of 104.65 mph. The final-but unofficial-world record for the mile race went to H. L. Bowden (below), who drove his specially-built $50,000 Mercedes to 109.76 mph and broke the previously set record by MacDonald. That final time was disallowed because Bowden's car weighed more than the 1,000-kg, a limit set by the Automobile Club de France. Follow this link to many photos, art and more information here on The Old Motor, of  Bowden's twin-engined Mercedes racer.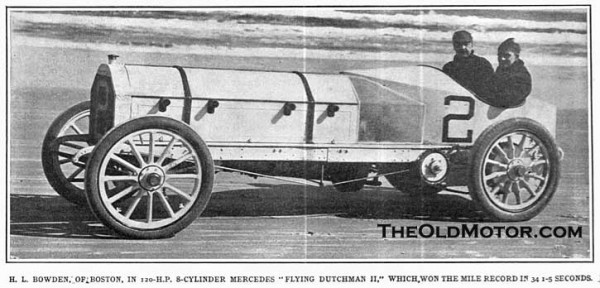 Photos (above) are from the The Automobile Magazine, Jan. 28, 1905, coverage of the events on the beach that year. The results of the rest of the races that week, can be found (below) in The Automobile Magazine, Feb. 5, 1905, coverage of the event, of which the full details can be found here. We also have many other early Ormond Beach racing related photos that you will also fine to be quite interesting.
Just this past week a film of the events on the beach that year has been released. Which of the many races held in 1905 shown in the film is unknown, but it gives us a glimpse of these pioneer racers in action.  Thanks to Kate Sullivan at HMN for finding the film (below) and her reporting on it.