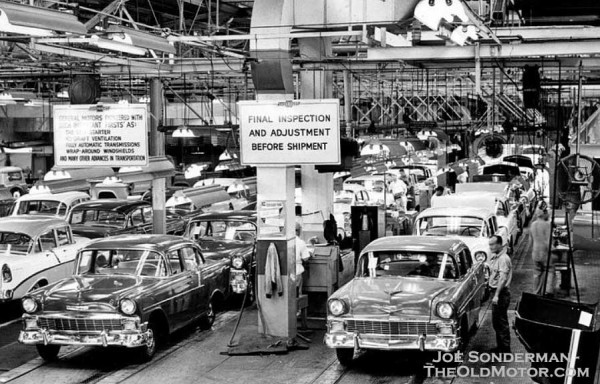 This photo shows the final inspection station on the Chevrolet assembly line, at the General Motors Fairfax Assembly Plant in Kansas City, Missouri, during 1956. The plant was next to the Fairfax Airport and was the former location of the North American Bomber Production Plant, where the B-25 Mitchell was manufactured during World War II. GM bought the former North American Aviation plant in 1945 and setup this Chevrolet facility.
This assembly plant was in operation until 1986, when a modern replacement plant Fairfax Number Two, was opened on the closed original Fairfax Airport.
The photo is courtesy of Joe Sonderman who has a  Route 66 photo  collection (scroll down) that we have been posting in a series. He has written many interesting books about Route 66, one covering Arizona you can see here.
Just (below) is a GM Motorama exhibit feature film from 1956, that starts out with a family stuck in traffic in a 1956 Chevrolet convertible. It then takes us to what GM predicted modern transportation systems and the automated turbine car were going to be like. Don't miss it at it is well done and entertaining.