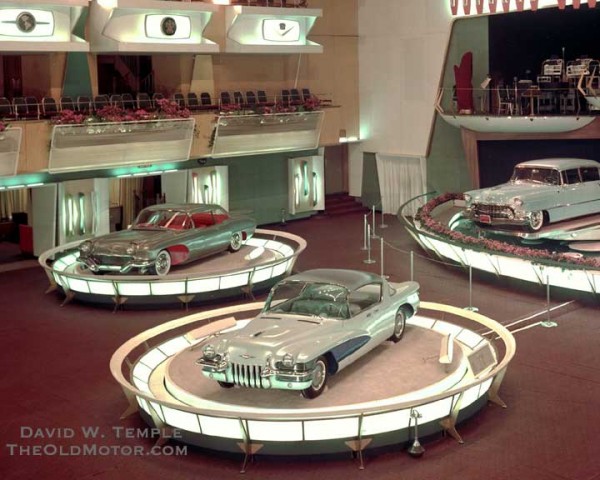 In our previous post about the GM Dream Cars that would be attending the Amelia Island Concours d'Elegance next month, we mentioned the LaSalle II Roadster and Sedan that would be on display. After a bit of research the photos seen here were found, showing the LaSalle II Sedan in the front (above) and just (below) on author David W. Temple's Dream Car Blog.
Both of them were non-operable show cars with unfinished aluminum V-6 engines that GM was developing at the time.
After their the cars had served their purpose, as is the fate of many automakers show cars, the LaSalle II cars and others were sent to be destroyed in 1958, as a matter of corporate cost cutting and to eliminate liability issues.
The LaSalle II Sedan was rescued by collector Joe Bortz in 1988 at the Warhoops Salvage Yard, north of Detroit, MI., in Sterling Heights, where it was sent by GM along with other Dream Cars to be destroyed. This never happened and the car survived largely intact.
In author David W Temple's words as follows, you can read the first part of his excellent post on the LaSalle II Cars:
"A particularly unusual part of the history of the GM Motorama show cars can be found in a pair dubbed LaSalle II. Named after Cadillac's companion marque, last produced in 1940, these cars were created at the time V8s were extremely popular with the motoring public. Increasingly greater horsepower was being achieved with growing cubic inches, higher compression ratios, multiple carburation, etc., and this did not seem to be the time to test public reaction to a V6 engine, but that is exactly what happened with the LaSalle II project." The rest of Temple's very informative post about the cars can be found on his excellent Dream Cars Blog.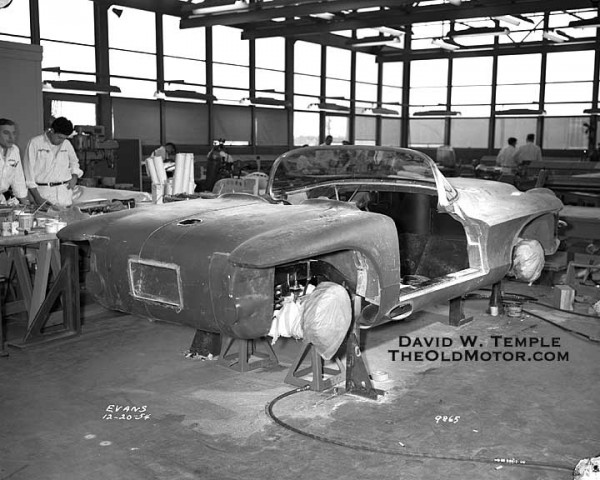 This photo (above) dated Dec. 20, 1954, shows the LaSalle II Roadster in a GM work shop, as it was being constructed. And (below) left and after it was completed and on the Motorama show circuit.
The LaSalle II Roadster also ended up at the Warhoops Salvage Yard, where it was slated to be destroyed. It had been cut into pieces, but not destroyed and rested under the Chevrolet Biscayne Motorama show car for close to thirty years. Joe Bortz rescued both of the LaSalle II cars, the Biscayne and also the Cadillac Eldorado Brougham Town Car. You can see and learn more about on it and its restoration in a video that Bortz has produced. All photos courtesy of David W. Temple.