The last few days have been quite a bit of coverage of 1950s cars and we will finish it off with this 26 minute, 1954 Mobilgas Film about The Youth Safety and Economy Run.
It was started by the The Peace Officers Car Club, which involved some twenty cities and towns in the Los Angeles area, retired racing driver Ralph DePalma, local car dealers and Mobilgas. It was an effort to involve the young members of the local car clubs, in safe competition out on the open road.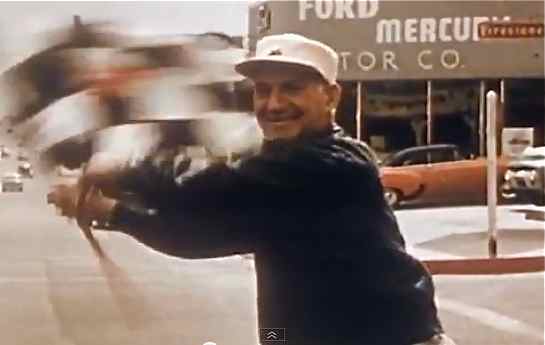 The run was a two-day and 663 mile route, driving from the Los Angeles area to the Inland Empire, through the desert, to Las Vegas, Nevada, off to Hoover Dam and then an overnight stop in Las Vegas and the run back home again. The photos seen here are a preview of what you will see in the film.
Pour yourself a cup of coffee and sit back and enjoy watching the fifteen new 1954 cars in the run, along with all the other cars and trucks on the road at the time and see flag man Ralph DePalma in action. Don't miss it as it is interesting and yet corny in a fifties kind of way.